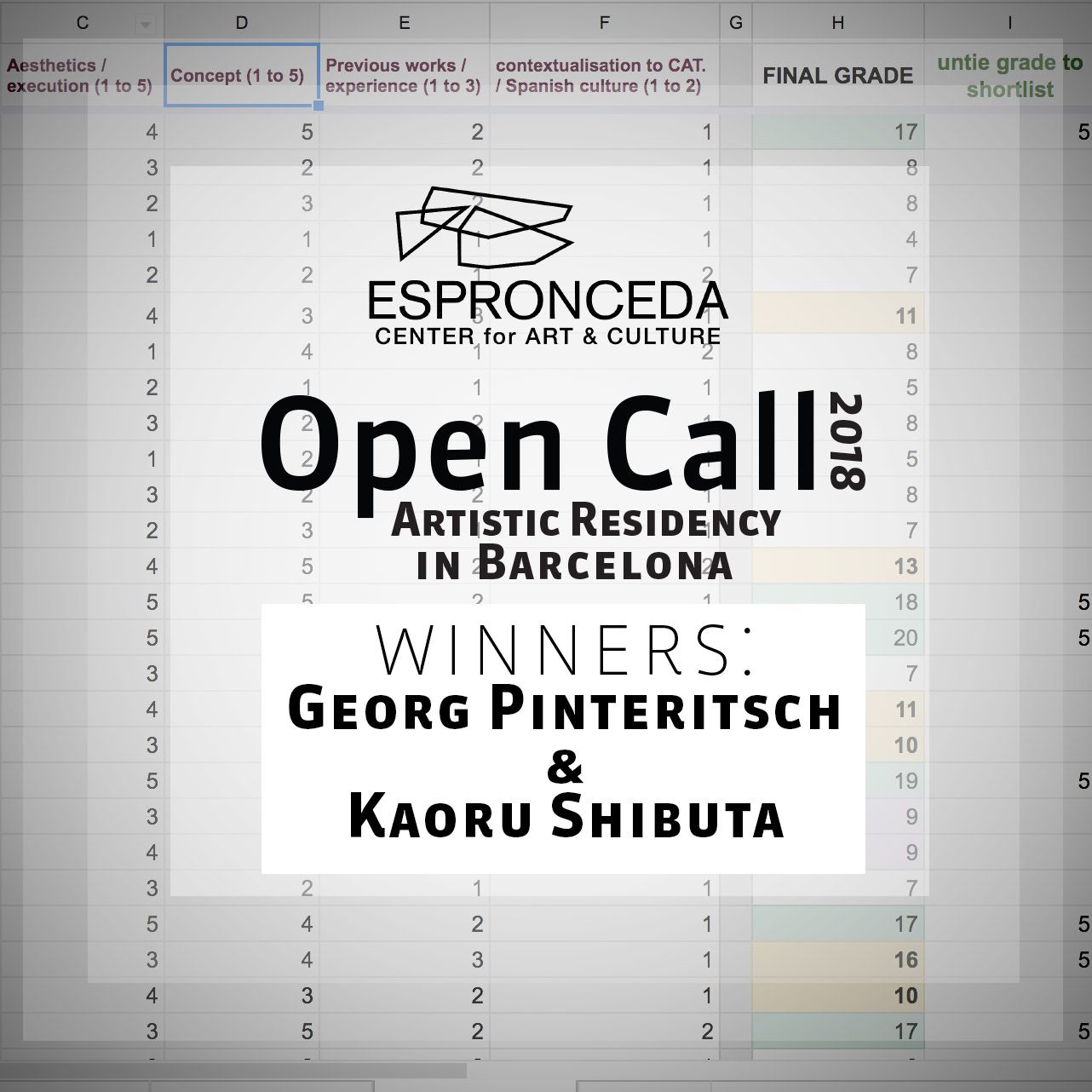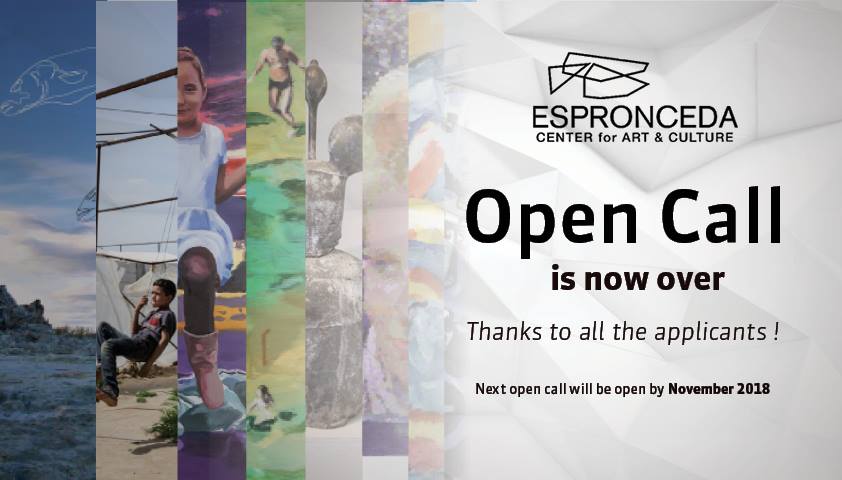 Open Call for artists 2018
Deadline 15th of March 2018

Espronceda – Center for Art & Culture, founded in 2013 in Barcelona, is an innovative and contemporary art centre, exhibition and work space. It provides a platform and a multi-disciplinary environment for artists, curators and everybody else who believes in the importance of art, culture and education for a more creative and better world. Espronceda organises: Artist in Residence Program, Curator in Residence Program, educational and cultural activities. It fosters established and aspiring international artists to develop their work and to spread their inspiration beyond our gallery. It transformed former industrial spaces into a state‐of‐the‐art melting pot for culture and art. Espronceda encourages the connection with the local community and the creation of a global network among artists, companies, cultural and art institutions for a social change through art. Espronceda stimulates a cultural and intellectual exchange between residents, local artists and students of Barcelona University. Residents can be invited to give lectures or presentations about their work at seminars and workshops for students.
Description of residency program
Support
Fellowships include full room and board of curators, plus the use of a common studio, 500€ to cover materials costs. These costs include: art materials of any kind, as determined by the artist, invitation design and print, communication and press-release, etc.
Accommodation
The apartments/studios (for two persons) are furnished and fully equipped for living and working, including air conditioning, washing machine, wi-fi internet. The rooms are simple but cosy. Kitchen and bathroom are shared spaces.

Studio/ workspace
A shared workspace is provided in an industrial space. Carpentry tools, as well as a broad table, easels and painting materials are available. Other art materials can be financed according to the artist's need within a limited budget.
Expectations towards the artist
There are no paid staff or cleaners here so you must take the responsibility for ensuring the house is kept clean and tidy for everyone who is there and for those that come after you. The artist is responsible both for his/her living room as well as for the common areas (kitchen, dining room, toilet). Espronceda expects a reasonable donation of one art work, produced during the residency. The artist and Espronceda will agree on choice of the art work. It will be included in the Espronceda collection and given visibility in occasions after the residency.
Paid by the artist
The cost of transportation to and from the Espronceda, Center for Art & Culture is the responsibility of the artist. Any personal expenses incurred during the fellowship period, including medical expenses, are of responsibility of the artist. It is highly recommended to provide a private health insurance prior to the artist's arrival. Costs of living is not included.
Duration and Period of residency
The residency lasts up to 5 weeks max, including an open studio and a final exhibition at the end of the residency. Espronceda's staff will organise the show while supporting the artist requirements and vision.
The time slots available for the residency will be in the months of July, August and September 2018, subject to change. Precise dates will be given to winner participants and can be submited to adaptation to his or her availability.
Disciplines supported and technical information
Artists from all the different disciplines (painting, photography, sculpture, installation, video and multi-media, etc.) are welcome to apply for the program. The subject is free.
Selection process
The judging criteria will take into consideration the following aspects:
> Relevance of the proposed topic in regards to its contemporary artistic scenario
> Previous experience and artistic merit of the applicant,
> Interest/ability of the applicant to involve the local community in the development of his/her work.
The applications for residencies will be evaluated by the committee of experts. It's decision is final.
Winners announcement
Winners of the residency programe will be announced during the last week of March. Winners will be contacted by email and/or phone and an announcement will be made public on our website.
__________________________________
How to apply
Applications are done online only and must be sent before March 15th, 2018.
How to apply: please send a zip file named as Last Name_First Name_Espronceda-opencall2018 to the following e-mail: residency@espronceda.net. The zip file must contain:
Applications can be made in Spanish or English.
A) DOCUMENTATION
Artist's CV, personal contact information and portfolio of previous works.

A description of the artistic project (500 words max)

Artist Statement (300 words max)
B) VISUAL DOCUMENTATION
Along the artistic project we ask that you send a selection of up to 10 images in a zip file or downloadable through a link that doesn't expire and/or videos links, if applicable.

IMAGE FILES HANDLING:
Each image file must be titled as: Last Name_First Name_image number. Example: Smith_John01.
Accepted file type: JPG-files only
Maximum size: up to 1800 px
Image resolution: 72 DPI
VIDEO FILES
Moving images (ie. time-based media, video, kinetic art or documentation of performance art) should be included in the IMAGE SCRIPT accompanying your application as a download link that doesn't expire, either provided by file-hosting services such as Dropbox or links to video-sharing websites such as YouTube or Vimeo. One video counts as one image, the duration does not matter. Video files of still artwork or documentation of artistic process will not be viewed.
C). PROOF OF PAYMENT: An administration fee of 15€ must accompany the application. This fee covers the processing of application forms, administration fees and is non-refundable should your application not be accepted. The fee should be transferred to the following account:
Triodos Bank NV S.E.
ES14 1491 0001 2721 4511 3722
Swift Code: TRIOESMMXXX
The receipt should be included on the submission by email.
_____
Sponsored by: