Open Call for Virtual Reality Residency in February 2020
Espronceda Institute of Art & Culture is selecting 2 artists to participate in its first residency dedicated to the research and development of a Virtual Reality,Augmented Reality and Artificial Intelligence artistic projects.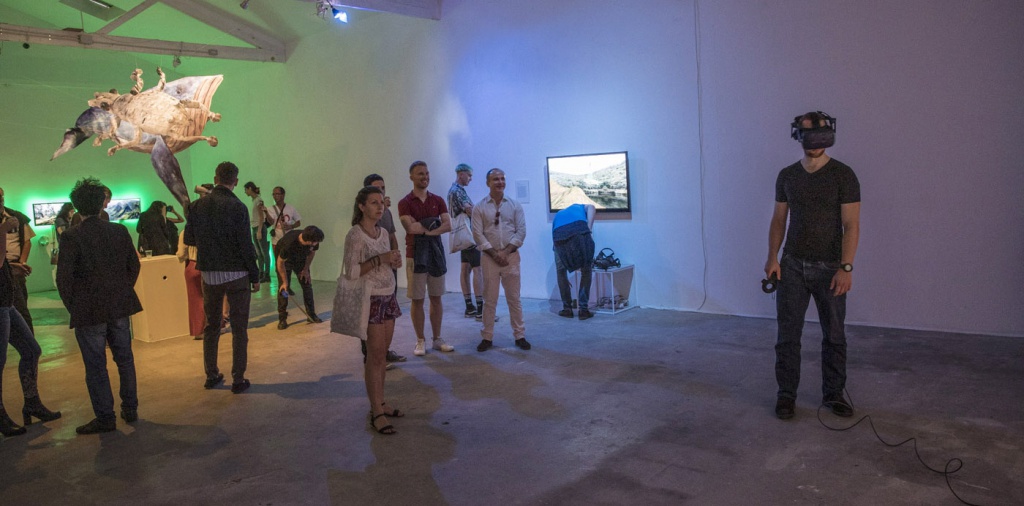 imatge de l'exposició Speculative Species, produïda per Espronceda & peer to space en col·laboració amb Goethe-Institut Barcelona i Radiance VR. foto de Vitor Schietti.
About Espronceda
Espronceda – Center for Art & Culture, founded in 2013 in Barcelona, is an innovative and contemporary art center, exhibition and workspace. It provides a platform and a multi-disciplinary environment for artists, curators and everybody else who believes in the importance of art, culture and education for a more creative and better world. Espronceda organizes: Artist in Residence Program, Curator in Residence Program, educational and cultural activities. It fosters established and aspiring international artists to develop their work and to spread their inspiration beyond our gallery. It transformed former industrial spaces into a state‐of‐the‐art melting pot for culture and art. Espronceda encourages the connection with the local community and the creation of a global network among artists, companies, cultural and art institutions for a social change through art. Espronceda stimulates a cultural and intellectual exchange between residents, local artists and students of Barcelona University. Residents can be invited to give lectures or presentations about their work at seminars and workshops for students.
The accommodations and conditions
The selected artists will stay in a private room in a shared apartment with a fully equipped kitchen, large dining and meeting table, lounge, two toilets with shower, washing machine and internet. The artist will not be required to pay for his/her stay but will have to consider expenses with food and other daily activities.
The residency
The period of the residency is 3 weeks. It starts on February 3rd 2020 and ends on February 21st 2020. During this period, the selected artists by this open call and other artists selected by Espronceda's jury will be expected to work together towards the creation of different projects that will have two later stages. The three stages in their totality ar:
Brainstorming, project structure, building the team,  quotations of costs, technical specs, documentation, prototype and presentation to curators. The artists will work in teams with a mediator/ curator to dynamize the innovation process.

Presentation of project at

VHRAM Festival, in Hamburg

, in June 2020 by at least one of the participant artists.
Some activities are already part of the program, others may appear during the residency:
> 03/02  Inaugural ceremony, key speakers talk ( Prof. Camille Baker. UCA + Mr. Ulrich Schrauth, artistic director VHRAM Festival)  + Performance workshop team building by Fundació Epica – Fura dels Baus.
> 05/02 Weekly visit to creative centers in Barcelona. 1st visit: Hangar & IAAC Fab Lab.
> 10/02 VR artist workshop by professional artist / Nuromedia technical engineer.
> 15/02: Weekly visit. Festival Llum Barcelona.
> 19/02: AI workshop, by IT department of UPF.
> 20-21/02:. VR / AI expo. work of the participants. (exhibition of the prototypes done during the residence and exhibition of individual works that artist did previosly).  
Resources available
The artists will have access to the following equipment during the residence:
> 3 MSI laptop computers with i7 processors, 7th generation
> 5 Oculus quest
> 3 Oculus rift S
> 4 Oculus Go
> 1 Vive pro
> 1 Vive
Submission deadline
Artists' portfolios and a proposal draft should be sent until January 10th to the email: alejandro@espronceda.net
What is a submission?
A submission should be made of the three following items:
Artist's CV

Online portfolio or link to download portfolio

Project idea with no more than 500 words. This idea won't necessarily be the one developed during the residency, but it serves as a starting point to guide the brainstorming with other participant artists and as criteria for the jury for the artist selection.
Do not send attachments larger than 2MB on your email submission. Large files of item b) should be made available by a download link or website.