Relaciones Sociales Entre Empleados

30/mayo/2023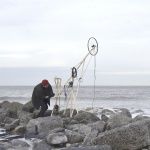 Basile Richon is a Belgian/Swiss visual and sound artist, currently based between Brussels, Belgium and Wallis, Switzerland.  Born in 1990 in Switzerland, he graduated from the EDHEA Valais School of Arts (Sierre, CH), holds a BFA from ERG (Brussels, BE) and an MFA from the Royal Academy of Fine Arts (Brussels, BE). Alongside his practice, Basile Richon is a faculty member since 2018 of the EDHEA Valais School of Arts (Sierre, CH).
Recent exhibitions include Cinema Nova (Brussels, BE), Grand Hornu contemporary arts museum (Hornu, BE), Labo Experimenteel kunstenplatform (Leuven, BE), Chateau Ephemere (Paris, FR), Matera Intermedia Festival (Matera, IT), Bex & Arts contemporary art triennial (Bex, CH). He was a recipient of the Swiss state of Valais grant Art Pro 2020 for emerging artists, was awarded in 2022 the Brussels excellence prize and the Espronceda Prize from the Espronceda Institute of Art and Culture, Barcelona. Two of the artist's works joined the collection of the Fonds d'art contemporain of the Swiss state of Valais in 2023. He is a founding member of the Swiss Collectif Facteur, which was awarded the Swiss state of Valais prize of encouragement.
Basile Richon's work primarily focusses on movement, sound and landscape. He inquires about their coexistence and overlaps by way of sculptural and mechanical devices installed in specific sites bearing the alterations of anthropic activity. These devices, often referred to as machines, are intended to autonomously transcribe and respond to the fluctuations of an unstable locale as a means to transcribe their environment into sound and poetic outcomes. Often involving various disciplinary fields at the crossroads of visual arts, contemporary music, cinema and science; Basile Richon's practice is defined by an ongoing reflection on the functional character and workings of the instruments that give us a grasp of the world that surrounds us.
basilerichon.ch