IMMENSIVA Expanded Experience Show I.
Gallery opening 20.09 @ 19:30h / Exhibition days 21.09 – 29.09 (EXCEPT 25.09, La Merce)
–
First edition of a selection of immersive and interactive projects by national and international artists:
«Morir de pie», Maia Basso (CAT), Alba González (CAT).
«Dragove». Ida Kvetny (DK), Ding Ding (CHI), Carlos G. Reche (CAT).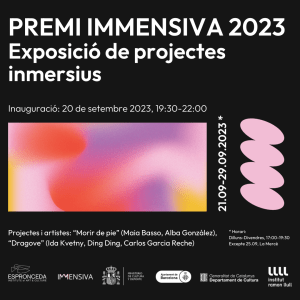 Morrir de pie: A virtual reality experience that tries to awaken the participant to a feeling of complicity with the new neo-feudal technology system being developed by Big Tech.
To quote Emiliano Zapata, 'I prefer to die right to live kneel', we want to claim the right to civil disobedience and embody the physical record with the cost of accepting the rules of the game and enjoying the well-being offered to us by these idealized models of the city of the future.
Dragove: The work defies our notions of relevance and atemporality in the art world. Through the use of new technologies, these sculptures merge the past and present, creating a unique and immersive experience for the viewer.
Complex installation using 3D sound, 3D AR object based video, person motion tracking camera, etc.