Relaciones Sociales Entre Empleados

11/octubre/2019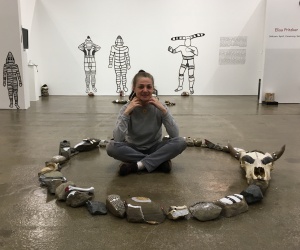 Sobre la artista
Pritzker exhibió en el MoMA, el Museo Queens, el Museo Skirball, el Museo Akin y el Museo Dorsky en exhibiciones grupales. En medio de solos, recientemente ha expuesto en HVMOCA [anteriormente Museo HVCCA], Galeria ArtexArte / Fundación Luz y Alfonso Castillo y Museo Hammond. Ha participado en la Bienal de Jerusalén 2015 y la Bienal de Islandia 2015/16. Su arte se mostró en Affordable Art Fair NYC y Londres, Reino Unido, London Biennale-Creative Village Medienparty en Berlín, Alemania, Pinta Fair NYC, Fountain Art Fair NYC y arteBA en Buenos Aires. Seleccionado como el representante de los artistas estadounidenses para The Pyramids of Naxos en los Juegos Olímpicos de Grecia 2004. De 2004 a 2012, estuvo representada por Franklin 54 Gallery en Nueva York [hasta el cierre].
Su arte se recoge de forma privada en todo el mundo. Sus obras se incorporaron a las colecciones permanentes de Jean Cherqui Art Collection, París y Nueva York; Biblioteca de Arte de Brooklyn, Brooklyn NY EE. UU.; Museo Dorsky, New Paltz NY Estados Unidos; Consulado Argentino, Ciudad de Nueva York; Bienal de Jerusalén, Jerusalén Israel; Galería Wiseman / Rogue Community College, Grants Pass Oregon; The New York Eye & Ear Infirmary, Nueva York NY Estados Unidos; Proyecto de arte global, Tucson AZ EE. UU .; Fundación Luz y Alfonso Castillo, Buenos Aires Argentina; Espronceda, Barcelona España; Drukpa Barcelona, ​​España; y Hammond Museum North Salem NY Estados Unidos.
Entre muchas publicaciones, Pritzker apareció en PBS Channel, CNN en español, Huffpost [Huffington Post], Chronogram Magazine, Hyperallergic y su «Eclectica Store» se exhibió en el New York Times.