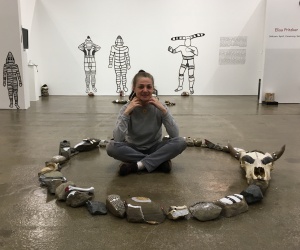 About the artist
Pritzker exhibited at MoMA, Queens Museum, Skirball Museum, Akin Museum and Dorsky Museum in group exhibits. Amid solos, she recently has exhibited at HVMOCA [formerly HVCCA Museum], Galeria ArtexArte/Luz & Alfonso Castillo Foundation and Hammond Museum. She has participated at the 2015 Jerusalem Biennale and 2015/16 Iceland Biennale. Her art was shown at the Affordable Art Fair NYC and London UK, London Biennale-Creative Village Medienparty in Berlin Germany, Pinta Fair NYC, Fountain Art Fair NYC and arteBA in Buenos Aires. Selected as the US artist representative for The Pyramids of Naxos at the 2004 Greece Olympics. From 2004 to 2012, she was represented by Franklin 54 Gallery in NYC [until closing].
Her art is collected privately worldwide. Her works were incorporated to the permanent collections from Jean Cherqui Art Collection, Paris & New York; Brooklyn Art Library, Brooklyn NY USA; Dorsky Museum, New Paltz NY USA; Argentine Consulate, New York City; Jerusalem Biennale, Jerusalem Israel; Wiseman Gallery/Rogue Community College, Grants Pass Oregon; The New York Eye & Ear Infirmary, New York NY USA; Global Art Project, Tucson AZ USA; Luz & Alfonso Castillo Foundation, Buenos Aires Argentina; Espronceda, Barcelona Spain; Drukpa Barcelona, Spain; and Hammond Museum North Salem NY USA.
Among many publications, Pritzker was featured at PBS Channel, CNN-in Spanish, Huffpost [Huffington Post], Chronogram Magazine, Hyperallergic and her "Eclectica Store" was showcased in the New York Times.