Relaciones Sociales Entre Empleados

22/abril/2022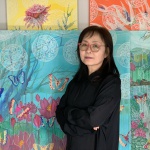 Hee Sook Kim is nationally, internationally recognized artist who has received numerous awards
including Fleisher Art Memorial Wind Challenge Award (Philadelphia), Pollock-Krasner
Foundation Grant (New York), and Leeway Foundation Grant (Philadelphia).
She also has had solo exhibitions including Philadelphia International Airport (PA), Youngeun
Museum of Contemporary Art (Korea), Phillips Museum of Art (Lancaster, PA), Marwick-Boyd
Fine Arts Center (PA), She had two person shows at Indianapolis Art Center, Lincoln Center
(Colorado), and Museum of Natural Sciences (North Carolina). Her work appeared at exhibitions
at Osaka City Museum and Fukuoka Prefectural Museum (Japan), Bronx Museum, Drawing
Center, Asian American Art Center, and Queens Museum (New York), Korean Cultural Center
(Washington DC). Additionally, her work has been shown at National Museum of Modern Art
(Korea), Taipei City Museum of Art (Taiwan). Ms. Kim's pieces are in many collections
throughout the United States, Korea, Japan, Taiwan, and Germany and numerous reviews were
published nationally and internationally.