Relaciones Sociales Entre Empleados

22/abril/2022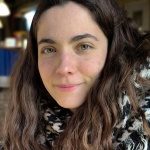 Born in Brittany (France) in 1996, Juliane Lusson lives and works in Brussels. She followed her bachelor studies in the European Academy of Art in Brittany (Lorient, FR). She lastly graduated in 2021 with a master's degree from the Royal Academy of Fine Arts (Brussels, BE). She participated in group exhibitions in France, the Czech Republic, and Belgium.
"The construction of both individual and collective memory are central in my research. Drawing and photography are my main mediums : their combination allows her to explore the relationships between imprint and trace, as well as the capture and its gaps.
In my recent works, the statuary figures and monuments come to find a place as main subjects. They guarantee permanency to human representations or achievements. Taking part in the construction  of national narratives, they encounter their limits and require a careful watch."