Relaciones Sociales Entre Empleados

16/julio/2018
Sobre la artista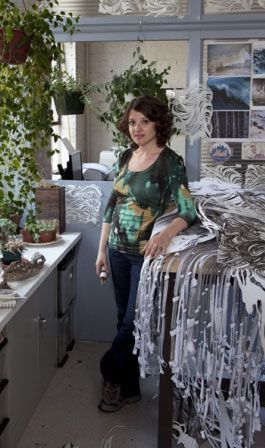 Desde que recibió el título en Bellas Artes de la Cornell University en 1996, Mia Pearlman ha exhibido internacionalmente en numerosas galerías, espacios sin fines de lucro y museos, incluido el Museo de Artes y Diseño (NYC), Galería Goyang Aram (Corea del Sur), Smack Mellon (Brooklyn, NY), la Galería Renwick en el Smithsonian American Art Museum y la Manchester Art Gallery (Reino Unido).
Las obraspermanentes incluyen esculturas a gran escala y específicas para la sede de Liberty Mutual en Boston, la estación de tren 80th Street A para MTA en Queens, Nueva York, y MGM Springfield en Springfield, MA, así como instalaciones de papel y esculturas de papel colgadas en la pared para Leon Max (Londres) y PricewaterhouseCoopers (NY).
Su trabajo ha aparecido en más de 20 libros sobre arte contemporáneo, y en prensa internacional y nacional, incluyendo The New York Times, New York Magazine, The New York Post y The Boston Globe. Pearlman también ha aparecido en PBS Thirteen's SundayArts, el Smithsonian Channel, TV3 de España y NY1
Pearlman ha participado en muchos programas de residencia, incluyendo 20×24 Studio (NYC), Proyecto'Ace (Buenos Aires), Byrdcliffe (Woodstock, NY), Lower East Side Printshop (NYC) y Vermont Studio Center. En 2012 fue becaria en el Liguria Study Center en Bogliasco, Italia.
Recibió una 2011 Artist Grant de la Fundación de Nueva York para las Artes, el Premio de Artes Visuales Robert Sterling Clark 2011, que otorga un espacio de trabajo gratuito durante un año en el Programa Espacial The Marie Walsh Sharpe Art Foundation, una Beca de la Fundación Pollock-Krasner (2008), una Fundación para la Beca de Emergencia de Artes Contemporáneas (2008) y una Beca de Artista -Establecida de UrbanGlass (2009).
Vive y trabaja en Nueva York
Personal website: miapearlman.com