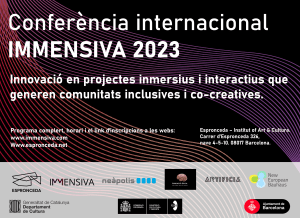 PROGRAM:
WEDNESDAY 7TH. From 10h30 to 16h30.
1OH30-11H00. Receipt of participants/cafe.
11h00-11h30. Key speaker. Open Conference
Eleonora d'Ascenzi. Immersive Storytelling and Transformative Design. Making a mark through a non-conventional perspective.
11h30-12h. Innovation and social impact. Several speakers.
Guest institutions: Neapolis, epic Foundation.
12h-12h30. Coffee and networking.
12h30-13h00. Programs of support for immersive and interactive projects. Presentation of the activity of institutions.
Guest institutions: CCCB, Casa Batlló, EURECAT, MWC Barcelona.
13h00-13h45. Debate. Social impact projects.
Institutions: Be Another Lab, Neapolis, Espronceda.
14h-15h30. Dinar with artists, technologists, curators, researchers, representatives of institutions, universities and students. (Invitation)
15h45-16h30. Visit with the artists at the exhibition of immense projects Residence 2023 and NUBIA Lab incubation 2023.
–
SEPTIEMBRE, 21. Será publicado próximamente.
Conference and free workshops, limited spaces. Email enrolments: alejandro.espronceda.net