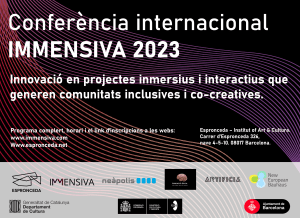 PROGRAMA:
DIMECRES DIA 7. De 10h30 a 16h30.
1OH30-11H00. Recepció dels participants/ cafè.
11h00-11h30. Key speaker. Conferència inaugural
Eleonora d'Ascenzi. Immersive Storytelling and Transformative Design. Making a mark through a non-conventional perspective.
11h30-12h. Innovació e impacte social. Diversos conferenciants.
Institucions convidades: Neapolis, Fundació Èpica.
12h-12h30. Cafè i networking.
12h30-13h00. Programes de suport als projectes inmersius i interactius. Presentació de l'activitat de institucions.
Institucions convidades: CCCB, Casa Batlló, EURECAT, MWC Barcelona.
13h00-13h45. Debat. Projectes d'impacte social.
Institucions: Be Another Lab, Neapolis, Espronceda.
14h-15h30. Dinar amb artistes, tecnòlegs, comissaris, investigadors, representants d'institucions, universitats i estudiants. (Per invitació)
15h45-16h30. Visita amb els artistes a l'exposició de projectes IMMENSIVA Residència 2023 i NUBIA Lab incubació 2023.
–
SEPTEMBER, 21. Serà publicat pròximament.
Conferència i tallers gratuïts, places limitades. Inscripcions al email: alejandro@espronceda.net