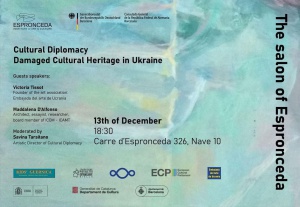 We are delighted to present, in the occasion of the Cultural Diplomacy project, together with the German Consulate of Barcelona, the webinar: Salon of Espronceda – Talk with a Special Guest, under the topic «Damaged Cultural Heritage in Ukraine» with the guests Victoria Tissot, curator of the project «Vesna», presented at the National Art Museum of Catalunya founder of the art association «Embajada del Arte de Ucrania» and Maddalena d'Alfonso, architect, essayist, researcher and board member of ICOM-ICAMT (International Council of Museum). The talk will be moderated by Savina Tarsitano, artist and artist director of the Cultural Diplomacy project.
Happening on 13th oof December, at 6:30 pm.
inscriptions at: savina@espronceda.net
About the guests: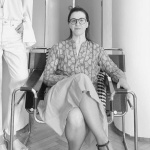 Maddalena D'Alfonso is an architect, essayist and researcher. Qualified Associate Professor in 2017, following the PHD in the interior, museography and exhibit design cum laude, in 2004. The architect has applied her abilities to combine research with museographic culture to conceptualize and design cultural exhibitions and projects. d'Alfono has been a member of DASTU (Department of Architecture and Urban Studies of Milan) since 2000, and the scientific board member of ICOM (The International Council of Museums), Italy since 2019. Her book, Warm Modernity (Silvana Editoriale 2016, Milano) which has received the RED DOT award and the exhibition "The landscape of rights. Photographing the Italian Constitution" – designed and curated by arch. d'Alfonso in 2017 for Comune di Milano – received the Medal of high representation from the Presidency of Italian Republic. In 2019, she founded Md'A Design agency to contribute her knowledge and network to reinforce interdisciplinary activities and bring architecture, curatorship and other specialities needed in the museum spaces management together by providing "Sustainable Architecture and Design Solutions" while highlighting the "Accessibility of the Visual Culture"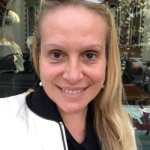 Victoria Tissot french-ukrainian lived in different countries mostly half of her life in Paris and actually she is based in Barcelona. She has an outstanding experience in public relations and project management at international level. She graduated with a PhD in Literature and History at the University in Ukraine. And in the last years art became her passion.  She founded the art association: Embajada del Arte to promote art and culture at local and international level. In the last year she organised more of 20 events to spread peace, in promoting Ukrainian artists. In particularly she was a curator of the project Vesna at the National Art Museum of Catalunya together with the artist Mykola Kornilov to give visibility to the ukrainian artists and testimony against the war in Ukraine. Among others, Victoria organised exhibitions, conferences and concerts like «Music for peace » concert at the Reial Cercle Artistic of Barcelona and « Ukrainian music in a classical canvas » concert in Sala Oval of MNAC this summer, as a real ambassador of Cultural Diplomacy.