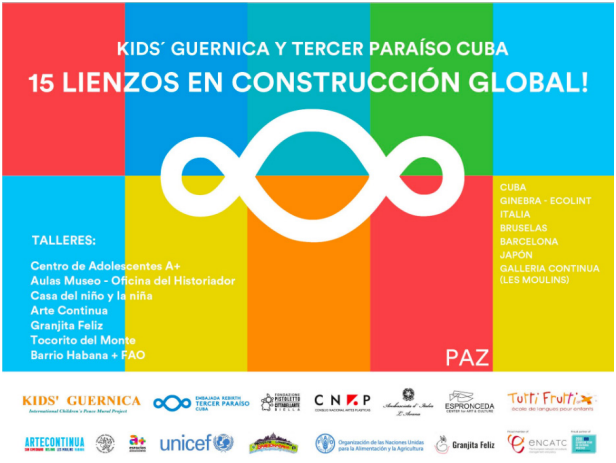 This project arrived in Cuba for the first time in 2015, at the Biennial of Art of Havana, and thanks to the management of the Embassy Rebirth / Third Paradise Cuba, an initiative of the Italian artist Michelangelo Pistoletto. ENCATC member, Savina Tarsitano, one of the ambassadors of the Third Paradise in the world and also promoter and activist of Kids' Guernica, is the one who brings this
project to Cuba.
The exhibition serves to celebrate the European Year of Cultural Heritage, the World Children's Day, the Week of Italian Culture in Cuba and also as an opening to the Rebirth Forum in Havana.
In this exhibition, around 15 canvases were exhibited in collaboration with the Office of the Historian of the City, ENCATC, the CNAP, the Italian Embassy in Cuba, Arte Continua Gallery, Espronceda Institute of Art & Culture, the A + Teen Center , UNICEF and FAO, as well as community projects, including Barrio Habana, Granjita Feliz and Casa del Niño y la Niña.
These canvases come from Italy, Japan, Cambodia, Indonesia, Belgium, the United States, Switzerland … and will continue their journey after the Havana stage.
On the 20th of November the balconies of the Plaza Vieja hosted a large exhibition of canvases from the international project Kids' Guernica, created in 1995 with the aim of promoting the creation of paintings with the same dimensions of the work "Guernica" by Pablo Picasso (3.50 x 7.80m), containing messages of peace issued by children around the world, through the art and the creativity.
During 2018 Savina Tarsitano directed the workshops showed on the document below.