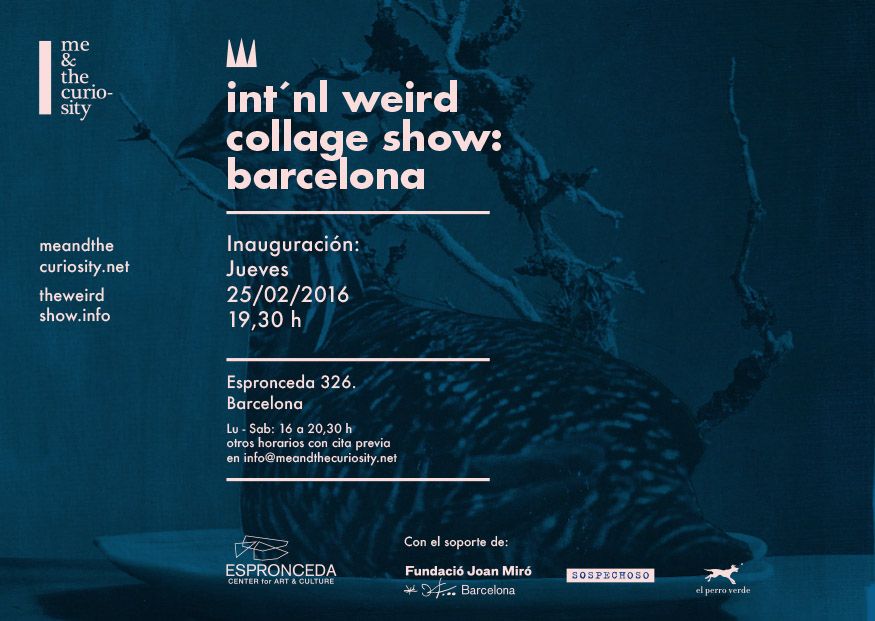 me & the curiosity trae a  Barcelona
"The International Weird Collage Show"
el International Weird Collage Show, la exposición colectiva de collage itinerante más importante del mundo
Los artistas Max-o-matic y Ruben B son los fundadores y comisarios de este proyecto
James Gallagher,  Dennis Busch, Charles Wilkin, Franco Fasoli y Ashkan Honarvar, son algunos de los más destacados artistas internacionales que participan en la exposición.
me & the curiosity trae por primera vez a Barcelona el International Weird Collage Show, la exposición colectiva de collage itinerante más imporante del mundo.
El comisariado del proyecto va a cargo de sus fundadores Max-o-matic y Rubén B que a la vez, son artistas participantes en la exposición. Ellos son los responsables de las 10 ediciones  que han tenido lugar a nivel internacional en Nueva York, Berlín, Montreal, Holanda, Perú, Ecuador, Costa Rica, Madrid…
En esta ocasión, el espacio escogido por me & the curiosity para ubicar esta exposición es la Nave 4 de Espronceda, Center for Art & Culture, en la calle Espronceda 326, 08027 de Barcelona.
La exposición se podrá visitar del 25 de febrero al 13 de marzo de 2016.
El International Weird Collage Show es una exposición nómada que conecta artistas de proyección internacional con artistas locales cuyas prácticas se centran en el collage.
La exposición enseña lo más relevante en el panorama internacional del collage buscando realizar una lectura contemporánea a una práctica que se ha ido resignificando desde inicios del siglo XX. Trabaja en la expansión global de la voz del collage contemporáneo.
ARTISTAS PARTICIPANTES
Alan Ganev & François Ares (Canadá), André Bergamin (Brasil), Anna Taratiel (Barcelona), Anthony Zinonos (EE.UU), April Gertler (Berlín, Alemania), Ashkan Honarvar (Noruega), B.D. Graft ( Países Bajos), Bill Noir (Francia), Chang Gang Lee ( Japón), Charles Wilkin (EE.UU), Cless (España), Dennis Busch (Alemania), Franco Fasoli (Argentina), Fred Free (EE.UU), Gloria Vilches (Barcelona), Goster (Lima, Perú), Grande (Malmo, Suecia), James Gallagher (EE.UU), Jon Legere (EE.UU), John Whitlock (EE.UU), Julia Busch (Alemania), Mario Zoots (EE.UU), Marta de los Pájaros (Barcelona), Max-o-matic (Barcelona), Mike de Sutter (EE.UU), Niko Vartiainen (Finlandia), Rubén B (Madrid, ESP), Sergi Lacambra (Barcelona), Sylvia Stolan (Noruega), Tamar Cohen (EE.UU), Vincent Pacheco (EE.UU).