Relaciones Sociales Entre Empleados

25/abril/2022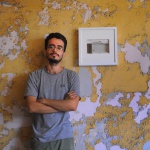 Alberto Alejandro Rodríguez, born in Havana, Cuba in 1995. Graduated from the San Alejandro National Academy of Fine Arts (2015) and the University of the Arts of Cuba (2020). He is currently studying the Master of Production and Artistic Research at the University of Barcelona. His work moves through the media of drawing, sculpture and installation, developing a practice that explores the relationship between architecture and landscape with the aim of expanding the classifications and categories of different phenomena associated with the forms of interaction of people with their environment. nearby environment.
Recently his work has been aimed at rethinking what can be considered cultural heritage in architecture and urban planning, which has led him to study and represent different types of places, specifically those that have been left aside in society, such as a attempt to redirect people's attention to the phenomenon itself.