Relaciones Sociales Entre Empleados

22/abril/2022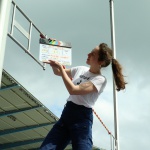 Alizée Loubet was born in 1995 in Lyon, France. In 2014 she moved to Brussels to study  fashion design at La Cambre, before branching out to complete a bachelor and master's  degree at the Royal Academy of Fine-Arts, within the « Art in Public Space » atelier. At the same time, she is trained in leather craft and work in the repair sector. Since 2018 she  associated with Fernando Miró, together they run the label MIPINTA.
Her work is based on a multidisciplinary practice : mixing video, painting and installation, it  discusses the way in which a territory is bordered and crossed. It is generally linked to one or several geographical positions. They serve as viewpoints to seize the porosity of the  lines which frame our spaces. The hatched signage almost systematically marks her  interventions : it corresponds with a visual limit, graphically powerful, universal and easy to overstep.