Relaciones Sociales Entre Empleados

29/agosto/2018
Sobre el artista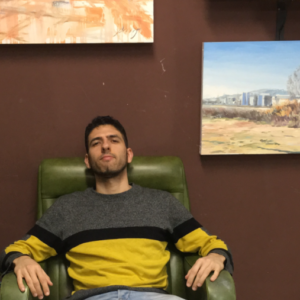 Bernat nació en Barcelona el 14 de Setiembre de 1986, pero creció en en Granollers.
De mente activa e inquieta, ya desde muy temprana edad identificaría su propio impulso artístico y su gran capacidad creativa. Se licencia en Bellas artes el 2009 con la especialidad de dibujo.
Ilusionado por sus ideas sobre educación e inspirado por sus padres, empieza a trabajar como profesor de "Educación visual y plástica" en un colegio privado. Ahogado por un sistema y una institución escolar en la que no cree pronto decide dejarlo para más tarde, durante un curso escolar, ocupar una plaza en un colegio público acompañando y atendiendo a adolescentes con dificultades. Sin embargo, este puesto desaparece por falta de subvención. Para entonces Bernat ya ha descubierto que, si bien disfruta muchísimo del trato con los alumnos, necesita encontrar la manera de incluir su impulso artístico en su carrera profesional.
De este modo, empieza a trabajar como profesor de "Creatividad y técnicas" en la Escuela Superior de Diseño de moda LCI Felicidad Duce. Aquí encuentra una bonita combinación de sus dos pasiones: el arte y la docencia, pero no es hasta 2015 cuando decide, tras un periodo de menor producción, apostar fuerte por su propia carrera artística. Aconsejado por su gran amigo Diaz Alamà, decide entrar en el programa de residencia artística en la Barcelona Academy of Art. Allí dispone de un maravilloso espacio donde crear y compartir tiempo con alumnos, profesores y artistas. Absorbe muchísimo de todos ellos y perfecciona la técnica de la pintura al óleo.
Bernat encuentra finalmente lo que no se le había ofrecido aún en ningún centro educativo: la posibilidad de aprender, de expresarse y de encontrar su propio camino por si mismo, estando  a la vez, acompañado por unos grandes tutores.
Actualmente, se dedica a la pintura, es el profesor titular de la asignatura de "Creatividad y técnicas" en la escuela LCI de Barcelona y colabora como profesor de "Dibujo Expresivo" en la Barcelona Academy of Art, donde además es el coordinador del Programa de Residencia Artística y tiene ubicado allí su estudio.
 Website: http://bernatbarris.com