About the artist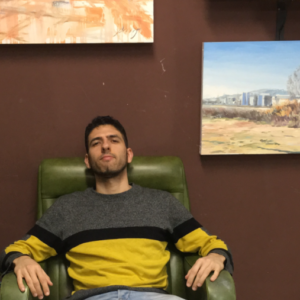 He graduated in Fine Arts in 2009 with a specialization in drawing.

Excited by his ideas on education and inspired by his parents, he starts working as a teacher of "visual and plastic education" in a private school. Disappointed by the school system,soon decides to leave it for another occupation in a public school: accompanying and serving adolescents with difficulties. However, this position disappears due to lack of subsidy. By then Bernat has already discovered that, although he greatly enjoys dealing with students, he needs to find a way to include his artistic impulse in his professional career.

In this way, he starts working as a professor of "Creativity and techniques" at the Superior School of Fashion Design LCI Felicidad Duce. Here he finds a beautiful combination of his two passions: art and teaching, but it is was just in 2015 when he decides, after a period of small production, to bet heavily on his own artistic career. Advised by his great friend Diaz Alamà, he decides to enter the artistic residency program at the Barcelona Academy of Art. There he has a wonderful space to create and share time with students, teachers and artists.

Bernat finally finds what he had never been offered before in any educational center: the possibility of learning, of expressing himself and of finding his own way, being at the same time accompanied by some great tutors.

He is currently engaged in painting, he is the professor of the subject of "Creativity and techniques" at the LCI school in Barcelona and works as a teacher of "Expressive Drawing" at the Barcelona Academy of Art, where he is also the coordinator of the Program of Artistic Residence and has located his studio there.
Personal website: http://bernatbarris.com