Relaciones Sociales Entre Empleados

06/agosto/2022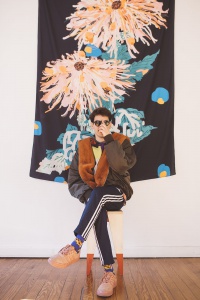 Santiago Paredes (1988) Lives and works in Buenos Aires.
He did a clinic and artwork analysis with Fabian Burgos, Nahuel Vecino and artwork construction workshops with Sebastián Bruno and Andres Sobrino. His main training as a painter was working as an assistant to the artist Daniel Scheimberg.
Among his solo exhibitions are: ̈El futuro es como la gelatina, transparente ̈ Bienal de Arte Joven en el C.C. Recoleta (Bs.As – 2022); ̈Hay una serpiente en mi bota ̈ Moria Galería (Bs. As – 2022); ̈A kiss behind the back ̈ Samara Contemporary (Toronto – 2020); ̈Caricia signficativa ̈ with Elisa Strada at Moria Galería (Bs.As – 2019); ̈El piso es Lava ̈, Moria Galería (2019); ̈Tropical Mecánico ̈, Mundo Dios (Mar del Plata – 2018).
Main group exhibitions: ̈Afterlife ̈ curatorship of Argentine contemporary art proposed by Sothebys at the One Thousand Museum together with historical works by Warhol, Basquiat and Cruz Diez (Miami – 2021); ̈Camino de Cintura ̈ together with Franco Fasoli, Nicolas Ever and Otto Garabello at Galeria Kreisler (Madrid – 2020) and ̈Turismo Mental ̈ Moria Galería (Bs.As – 2020).
He has participated in international art fairs such as: ArteBa, Swab, ChACO, ArteCo, F.A.M.A. In 2021 he won the Espronceda award for a residency and solo show in Barcelona to be developed in 2022. In 2018 and 2019 he was selected in the Concurso de Artes Visuales del Fondo Nacional de las Artes, in 2021 he participated in the Premio ITAU de Artes Visuales and Premio Argentino a las Artes Visuales Fundación OSDE. In 2019 he was selected as a juror in Visual Arts for the Metropolitan Fund.
Since 2017 he turns his practice to digital and textile design. He made different collections of clothing and accessories. His designs are sold in stores, boutiques and Museum shops in Buenos Aires, Toronto, Mexico, London and New York. He has developed graphic pieces and different artistic works for major brands such as Facebook, Dom Perignon, Gucci, Grolsh, among others.