Relaciones Sociales Entre Empleados

26/abril/2022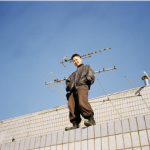 Nadoe is a young artist and activist currently based in Seoul, South Korea.
The work he presents usually starts by observing the situation he faces and perceiving
his social position in a broader sociocultural context. Nadoe tries to extend personal
stories to communal narratives. Regardless of genre or medium, he investigates the
things he interacts with, such as socio-political issues, eco-system, norms and
concepts, and captures abstract points like vulnerability, ambiguity, incompleteness,
and instability.
The artist's desire is to capture a state of ambiguity and ambivalence inside him or
somewhere else and express that through a form of art.
He is interested in capturing what exists clearly around us but is usually unrecognised
without attention and bringing it to the surface, by revealing hidden connections in
nature to art forms such as installation, audio- visual, and performance.