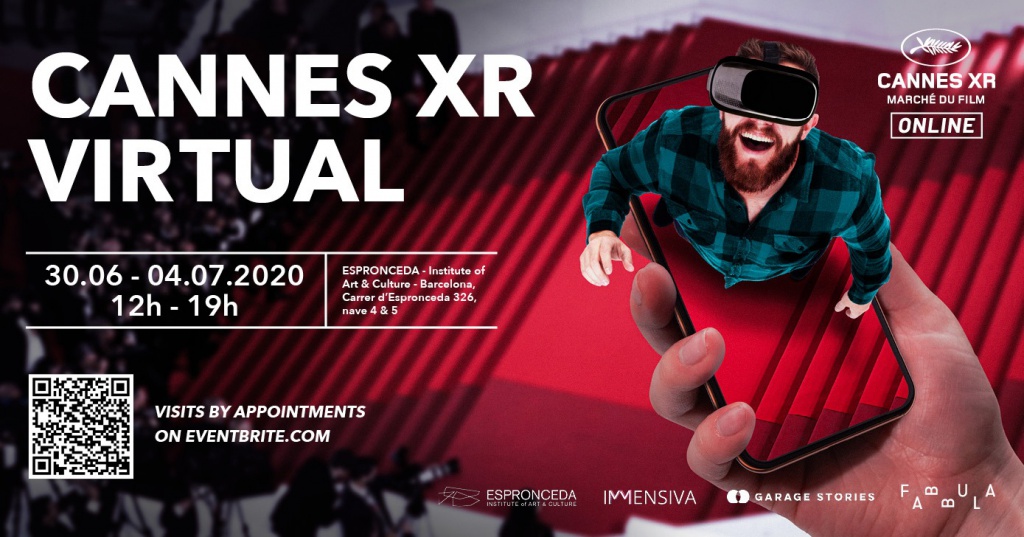 Después del exitoso «entretenimiento basado en la ubicación» para invitados seleccionados el viernes pasado, nos complace anunciar que el acceso a Cannes XR se extendió hasta el próximo sábado (04/07) y está abierto al público en general de martes a sábado solo con cita previa a través del enlace:
https://www.eventbrite.com/e/cannes-xr-barcelona-public-visitation-tickets-111607045678
Marché du Film del Festival de Cannes, Tribeca Film Festival, Kaleidoscope, The Museum of Other Realities y Veer VR se han asociado este año, para adaptarse a la situación internacional particular, para remodelar un evento innovador en línea y en realidad virtual: Cannes XR Virtual, un programa totalmente dedicado a las tecnologías y obras inmersivas, en relación con el arte de contar historias y la industria del cine.
Una red de entretenimiento basado en la ubicación (EBU) se llevará a cabo en varias ciudades importantes con el apoyo de socios locales. Gracias a esta red, los periodistas e invitados que no tengan auriculares VR podrán asistir a Cannes XR Virtual y experimentar el evento.
-> Lista de nuestros socios locales LBE:
* VeeR, Beijing, China
* VeeR, Shanghai, China
* Cine de diversión, París, Francia
* Positron, Los Ángeles, EE. UU.
* Archivo de películas de Kaohsiung, ciudad de Kaohsiung, Taiwán
* Institut français d'Israël, Tel Aviv, Israel
* Espronceda / Historias de garaje / Fabbula, Barcelona, España
Más información de Cannes XR: marchedufilm.com/programs/cannes-xr