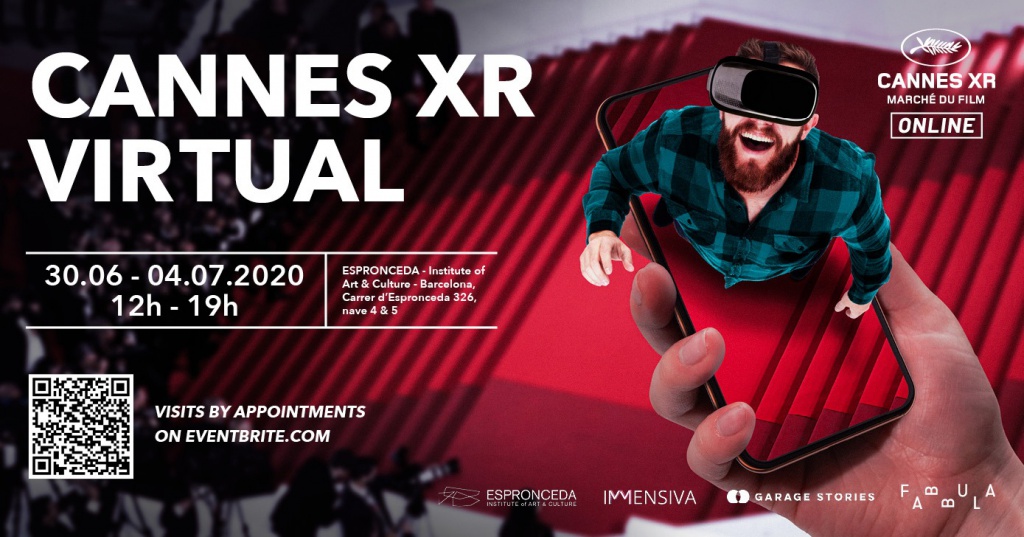 Després de l'exitós "entreteniment basat en la ubicació" per a convidats seleccionats del passat, ens complau anunciar que l'accés a Cannes XR s'ha estès fins al proper dissabte (07/07) i que està obert al públic en general de març a dissabte només amb prevista a través de l'enllaç:
https://www.eventbrite.com/e/cannes-xr-barcelona-public-visitation-tickets-111607045678
Vaig marxar du Film de Festival de Cannes, Tribeca Film Festival, Kaleidoscope, The Museum of Other Realities i Veer VR s'han associat aquest any, per adaptar-se a la situació internacional particular, per remodelar un event innovador en línia i en realitat virtual: Cannes XR virtual, un programa totalment dedicat a les tecnologies i obres immersives, en relació amb l'art d'explicar històries i la indústria de cinema.
Una xarxa d'entreteniment basat en la ubicació (EBU) es durà a terme en diverses ciutats importants amb el suport de socis locals. Gràcies a aquesta xarxa, els periodistes i convidats que no tinguin auriculars VR podran assistir a Cannes XR Virtual i experimentar l'esdeveniment.
-> Llista dels nostres socis locals LBE:
* Veer, Beijing, Xina
* Veer, Shanghai, Xina
* Cinema de diversió, París, França
* Positron, Los Angeles, EE. UU.
* Arxiu de pel·lícules de Kaohsiung, ciutat de Kaohsiung, Taiwan
* Institut français d'Israël, Tel Aviv, Israel
* Espronceda / Històries de garatge / Fabbula, Barcelona, ​​Espanya
Més informació de Cannes XR: marchedufilm.com/programs/cannes-xr/