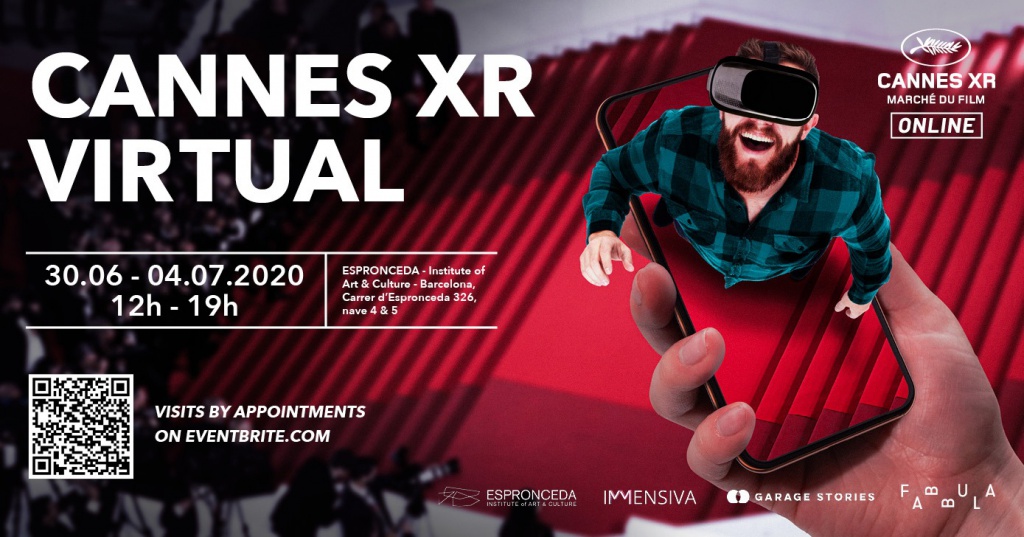 After the successful Location Based Entertainment for selected guests last Friday, we're happy to announce that the Cannes XR access was extended until next Saturday (04/07) and it's open for general public from Tuesday to Saturday by appointment only through he following link:
https://www.eventbrite.com/e/cannes-xr-barcelona-public-visitation-tickets-111607045678
The Marché du Film of the Cannes Festival, Tribeca Film Festival, Kaleidoscope, The Museum of Other Realities and Veer VR have partnered this year, to adapt to the particular international situation, to remodel an innovative online and virtual reality event: Cannes XR Virtual, a program totally dedicated to technologies and immersive works, in relation to the art of storytelling and the film industry.
A Location Based Entertainment (LBE) network will be held in several major cities with the support of local partners. Thanks to this network, journalists and guests who don't have a VR headsets, will be able to attend Cannes XR Virtual and experience the event.
-> List of our LBE venues partners:
* VeeR, Beijing, China
* VeeR, Shanghai, China
* Diversion cinema, Paris, France
* Positron, Los Angeles, USA
* Kaohsiung Film Archive, Kaohsiung City, Taiwan
* Institut français d'Israël, Tel Aviv, Israël
* Espronceda / Garage Stories / Fabbula, Barcelona, Spain
More information of Cannes XR: https://www.marchedufilm.com/programs/cannes-xr/