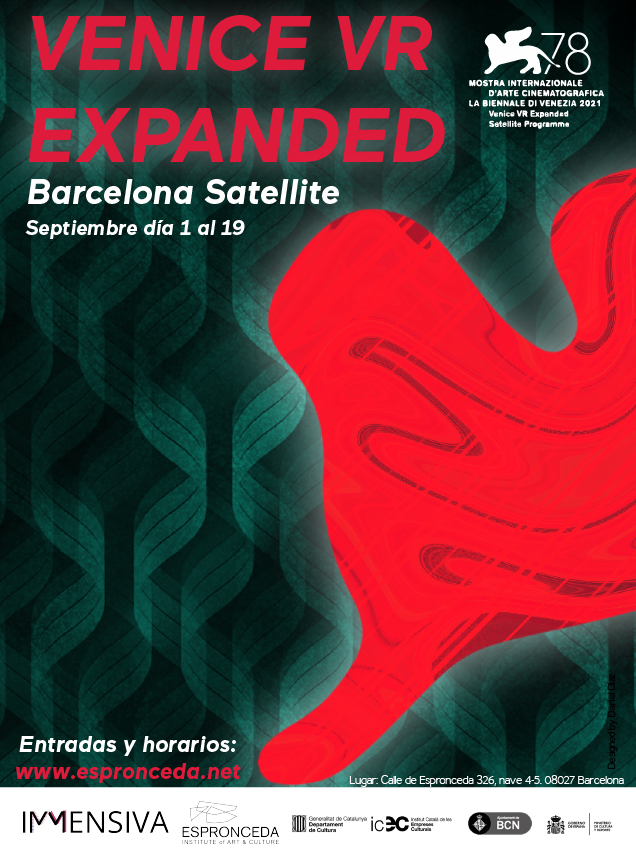 Del 1 al 19 de septiembre de 2021 vuelve el Venice VR Expanded
a ESPRONCEDA – Institute of Art & Culture
El preestreno para la prensa será el día 31 de agosto
Más de 40 proyectos inmersivos, 9 horas al día y 8 estaciones simultáneas…
¡El futuro ha llegado!
Por segundo año consecutivo, la Bienal de Venecia organiza su versión expandida dedicada a la realidad virtual para ofrecer al público de todo el mundo la posibilidad de experimentar la selección de Venice VR Expanded, y ESPRONCEDA – Institute of Art & Culture forma parte de este programa.
Las piezas de VR seleccionadas serán accesibles para los espectadores acreditados del 78º VIFF y los visitantes de las instituciones satélite, a través de los cascos PCVR y Oculus Quest, en las plataformas Venice VR Expanded online asociadas HTC Viveport y Oculus de Facebook.
El Venice VR Expanded de 2021 está compuesto por 30 proyectos inmersivos en Competición, 10 proyectos inmersivos en la sección Best Of y una selección de proyectos desarrollados a través del programa Biennale College Cinema VR.
El horario de apertura es de 11 a 20 h. del 1 al 19 de septiembre, incluidos los fines de semana.
Puedes conseguir tus entradas aquí: https://4tickets.es/espronceda/public/janto/
Además de ESPRONCEDA, las obras de Venice VR Expanded también estarán disponibles en otras prestigiosas instituciones culturales de todo el mundo:
Centre PHI, Montreal, Canadá
Sandman Studios – Sandbox Immersive Festival, Beijing, China
MC2: Grenoble, Grenoble, Francia
Centquatre-Paris, París, Francia
Invr.Space, Berlin, Alemania
MEET Digital Culture Center | Fondazione Cariplo, Milan, Italia
Fondazione Giacomo Brodolini – Laboratorio Aperto di Modena, Modena, Italia
Museo Nazionale del Cinema, Turin, Italia
M9 – Museum of the 20th Century, Venecia Mestre, Italia
Eye Filmmuseum, Amsterdam, Países Bajos
Less Media Group – Moscow Museum of Modern Art (MMOMA), Moscú, Rusia
Euromersive Turkey – IKSV Salon & Kolektif House (Maslak), Istanbul, Turquía
Portland Art Museum & Northwest Film Center – Portland Art Museum, Portland, Estados Unidos
El jurado de la sección Venice VR está formado por:
Michelle Kranot, Presidenta
Maria Grazia Mattei
Jonathan Yeo
Los proyectos en competición son:
ENGELEN VAN AMSTERDAM (ANGELS IN AMSTERDAM)
de ANNA ABRAHAMS, AVINASH CHANGA
Países Bajos / 30'
END OF NIGHT
de DAVID ADLER
Dinamarca, Francia / 49'
LA PLAGE DE SABLE ÉTOILÉ (THE STARRY SAND BEACH)
de NINA BARBIER, HSIN-CHIEN HUANG
Francia / 15'
CAVES
de CARLOS ISABEL GARCÍA
Suecia / 19'
BEDLAM
de MAT COLLISHAW
Francia, Reino Unido, Taiwan / 45'
GENESIS
de JOERG COURTIAL
Alemania / 13'
SPIRIT OF PLACE
de DALE DEACON
Sur África, Dinamarca / 30'
TEARLESS
de KIM GINA
Corea del Sur, Estados Unidos / 12'
LUN HUI (SAMSARA) COMPLETE PART 1 AND 2 VERSION
de HSIN-CHIEN HUANG
Taiwan / 21'
CLAP
de KEISUKE ITOH
Japón / 13'
LE BAL DE PARIS DE BLANCA LI
de BLANCA LI
Francia, Alemania, Luxemburgo / 35'
BLISS IN THE EAR OF A STORM
de ADAM LIEBER, HAL SORTA
Reino Unido, Sur África, Estados Unidos / 20'
IL DUBBIO – EPISODE 2
de MATTEO LONARDI
España, Italia / 7'
ANANDALA
de KEVIN MACK
Estados Unidos / 15'
GOLIATH: PLAYING WITH REALITY
de BARRY GENE MURPHY, MAY ABDALLA
Reino Unido, Francia / 25'
MONTEGELATO
de DAVIDE RAPP
Italia / 28'
THE SEVERANCE THEORY: WELCOME TO RESPITE
de LYNDSIE SCOGGIN
Estados Unidos / 60'
CONTAINER
de MEGHNA SINGH, SIMON WOOD
Sur África / 16'
BING MEI GUEI (THE SICK ROSE)
de TANG ZHI-ZHONG, HUANG YUN-HSIEN
Taiwan / 17'
MYRIAD.WHERE WE CONNECT. |VR EXPERIENCE
de LENA THIELE, SEBASTIAN BAURMANN, DIRK HOFFMANN
Alemania / 31'
THE LAST WORKER
de JÖRG TITTEL
Reino Unido / 30'
EXPLORING HOME
de SARA LISA VOGL
Alemania / 16'
YI YUAN (THE FINAL WISH)
de WANG HAIPEI, WANG SHANSHAN
China / 20'
BEST OF VR EXPANDED – Fuera de competición
MASKMAKER
by BALTHAZAR AUXIETRE
Francia / 300'
MIND VR EXPLORATION
by DENG ZUYUN, YONG CAO
China / 15'
KUSUNDA
by FELIX GAEDTKE, GAYATRI PARAMESWARAN
Alemania, Nepal, Suecia, Suiza, Taipei* (*as per Institutional practices) / 23'
MICRO MONSTERS WITH DAVID ATTENBOROUGH
by ELLIOT GRAVES
Reino Unido, Estados Unidos / 5'
MARE
by RUI GUERREIRO
Japón, Suecia / 180'
SPACE EXPLORERS: THE ISS EXPERIENCE – EPISODES 1-2
by FÉLIX LAJEUNESSE, PAUL RAPHAËL
Canadá, Estados Unidos / 55'
SAM & MAX: THIS TIME IT'S VIRTUAL!
by MICHAEL LEVINE
Estados Unidos / 300'
MYST
by RAND MILLER, HANNAH GAMIEL, ERIC ANDERSON
Estados Unidos / 120'
KNOT: A TRILOGY
by GLEN NEATH, DAVID ROSENBERG
Reino Unido / 65'
WRAITH: THE OBLIVION – AFTERLIFE
by ERIK ODELDAHL
Suecia / 480'
JURASSIC WORLD AFTERMATH
by RICHARD SNOWDON
Reuino Unido, Australia, Estados Unidos / 180'
REEDUCATED
by SAM WOLSON, BEN MAUK, NICHOLAS RUBIN, MATT HUYNH
Estados Unidos, Kazakhstan / 20'
Puedes consultar el programa completo de Venice VR Expanded y la lista de trabajos en la página web https://www.labiennale.org/en/news/selection-complete-works-venice-vr-expanded-0