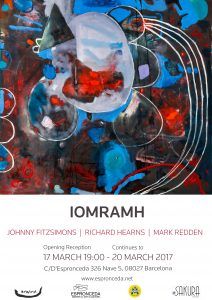 ESPRONCEDA presenta
«IOMRAMH»
Por Richard Hearns, Johnny Fitzsimons & Mark Redden
INAUGURACIÓN: Viernes 17 Marzo, 2017 @ 19.00
EXPOSICIÓN: Viernes 17 Marzo, 2017– Lunes 20 Marzo, 2017
En ocasión del Día de San Patricio, Espronceda presenta «Iomramh», una exposición que consiste en la obra de tres artistas irlandeses contemporáneos que tienen el placer de invitaros a celebrar este día especial de cultura irlandesa. Iomramh es una clase de cuentos irlandeses de antaño sobre el viaje marítimo de un héroe al más allá. Escritos en la era cristiana, conservan elementos de la mitología irlandesa.
Richard Hearns, Johnny Fitzsimons y Mark Redden asistieron al Dunlaoghaire College of Art and Design, Dublín, graduándose a principios del milenio. Su relación se forjó en 2006 durante una residencia en un remoto estudio en Roscommon, Irlanda, donde trabajaron de un modo casi monástico: llevaban una vida tranquila y pasaban largas horas en sus estudios sentando las bases para sus futuras prácticas. Desde entonces, todos ellos han recorrido mundo en la incesante búsqueda de mayor conocimiento, de crear arte y de hallar un ideal pictórico único. Forman un triángulo de dispares resultados visuales en un contexto similar de espacio y tiempo, que se reúne nuevamente para explorar su creatividad.
Al igual que los monjes irlandeses medievales que conservaron las técnicas de ilustración de manuscritos iluminados durante la Edad Oscura, estos tres artistas del umbral de Europa expresan una vocación por mantener el medio de la pintura. Su obra abarca desde la abstracción hasta la figuración, y es a la vez alegórica e intuitiva. Aunque siempre tomarán inspiración de sus raíces en la Isla Esmeralda, su práctica tiene lugar en un contexto universal.