Lithium Republic xyz – Territorio Virtual
Ensayos virtuales sobre entornos en crisis
19.30 h
1/09/2023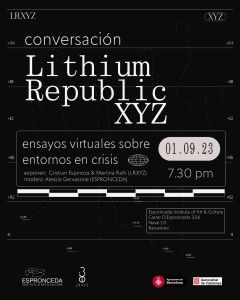 Espronceda Institute of Art & Culture of Barcelona will host the presentation of the project Lithium Republic XYZ – Virtual Territory promoted and created by architect Cristian Espinoza and curator Merlina Rañi.
The event will offer an overview of the project and an analysis of possible developments and research related to the fragile natural territories known as the lithium triangle in order to stimulate a critical discourse aimed at the preservation of these ecosystems. This presentation aims to examine the potential of new technologies, in this particular case the metaverse, and how they can be effective means of communication and awareness-raising to help us imagine sustainable futures committed to the ecosystem in which we live. The project is part of Espronceda's line dedicated to analyze how art together with science and new technologies promote environmental activism and can change our anthropocentric point of view towards a more ecocentric vision.
Lithium Republic XYZ – Virtual Territory is presented as an experiment in the metaverse on the territory known as the lithium triangle (located in the wetlands region between Chile, Bolivia and Argentina) that, through the virtual parallelism of environments in crisis, aims to support interdisciplinary research that addresses the current situation of this space, as well as to gather information on the complex interweaving that is formed between the future of energy, geohumanities and indigenous critique.
Lithium Republic XYZ takes shape in a platform that allows the staging of different issues and discourses on this environment in crisis, using resources such as virtuality and simulation. The project supports researchers and people interested in this region and related issues, with the aim of exploring the potential of the metaverse for reflection, dissemination and testing of alternative narratives, thus building potential realities. While its object is the appropriation of new media (metaverse, VR, blockchain, AI) for experimental purposes, in order to de-hierarchize virtual discourses -imparted from hegemonic centers of power- favoring participation and decentralization.
EXPONEN: Merlina Rañi (Comisaria y escritora. Fundadora del proyecto Lithium Republic XYZ) Cristian Espinoza (Arquitecto y investigador. Fundador del proyecto Lithium Republic XYZ)
MODERA: Alessia Gervasone (Project manager y comisaria, ESPRONCEDA
Lithium Republic XYZ – Project