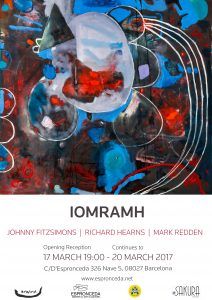 ESPRONCEDA presenta
"IOMRAMH"
Per Richard Hearns, Johnny Fitzsimons & Mark Redden
Inauguració: Divendres 17 març 2017 @ 19:00
EXPOSICIÓ: Divendres 17 de Març, 2017- dilluns 20 març 2017
En Ocasió del Dia de Sant Patrici, Espronceda presenta "Iomramh" una Exposició que implica l'obra de tres artistes Irlandesos contemporanis que tenen el lloc de convidar-té celebrar aquest dia especial de cultura irlandesa. Iomramh és una classe de contes Irlandesos sobre el viatge antany marítim de l'més enllà d'un heroi. Escrits en l'època cristiana, la preservació dels seus elements de mitologia irlandesa.
Richard Hearns, Johnny Fitzsimons i Mark Redden van assistir a l'Dún Laoghaire College of Art and Design, Dublín, on es va graduar en: principis del mil·lenni. La seva relació és forjar durant una residència el 2006 en un estudi remot en Roscommon, Irlanda, van treballar on a mode de gairebé monàstic: portaven una vida tranquil·la i hores llargues passaven més assentant les bases d'estudis per addició de futura pràctiques. Desde, tots ells han del món recorregut en la incessant recerca d'alcalde coneixement per crear d'art i trobar 1 Únic pictòric ideal. Formen un triangle de resultats dispars visuals similars en un context d'Espai i Temps, si reuneix creativitat novament per a la seva explorar.
A l'igual que els Monjos Irlandesos medievals que van conservar les tècniques d'il·lustració de manuscrits il·luminats durant l'Edat Fosca, aquests tres artistes del llindar d'Europa expressen una vocació per mantenir el mitjà de la pintura. La seva obra abasta des de la Abstracció la del fins figuració, i és un alhora al·legòrica i intuïtiva. Encara sempre prendran inspiració seus arrels a Isla Esmeralda, do practical té un lloc context universal.