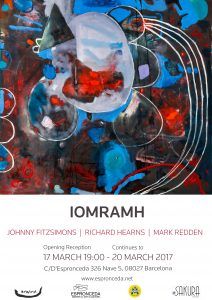 ESPRONCEDA presents
"IOMRAMH"
By Richard Hearns, Johnny Fitzsimons & Mark Redden
OPENING: Friday March 17, 2017 @ 19.00
EXHIBITION: Friday March 17th, 2017 – Monday March 20th, 2017
On the occasion of St Patrick's Day, Espronceda Center for Art presents "Iomramh", an exhibition consisting of the work by three Contemporary Irish artists, who are pleased to invite you to celebrate this special day of Irish culture. An Iomramh is a type of Old Irish tales concerning a hero's sea journey to the Otherworld. Written in the Christian era, they preserve elements of Irish mythology.
Richard Hearns, Johnny Fitzsimons and Mark Redden all attended the Dunlaoghaire College of Art and Design, Dublin, graduating at the turn of the millennium. Their relationship was forged in 2006 while they worked in a remote studio residency in Roscommon, Ireland. It was almost monastical how they worked – living quietly, spending long hours in their studios and laying the foundation for their future practices. Ever since then, all of them have travelled far and wide, in search of greater knowledge; in a relentless quest for making art and finding a unique pictorial ideal. A triangle of disparate visual results from a similar context of place and time, coming together once again to explore their creativity.
Like the medieval Irish monks who preserved the techniques for illustrating illuminated manuscripts during the Dark Ages, these three artists from the edge of Europe have a vocation to maintain the medium of paint. Their body of work ranges from abstraction to figuration, and is both allegorical and intuitive. Although they will always be somewhat inspired by their upbringing on the Emerald Isle, their practice takes place in a universal context.