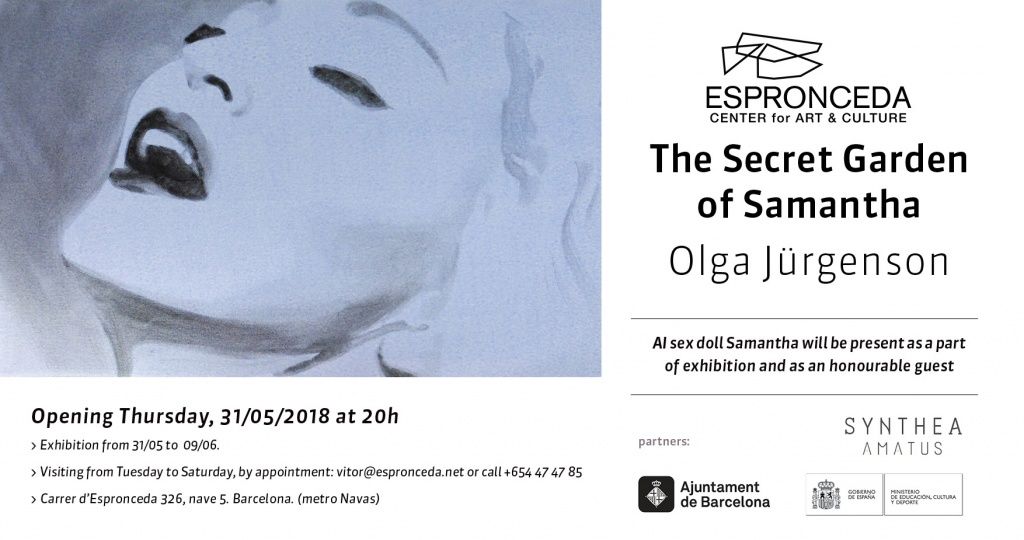 "Su jardín secreto no es como el mío".
Nancy Friday, 'Men in love'
La idea de esta instalación y su serie de pinturas se inspiró en la creciente popularidad y rápido desarrollo de parejas sexuales artificiales, así como la investigación sobre fantasías sexuales de hombres y mujeres, que Nancy Friday publicó en libros titulados 'My Secret Garden '(1973) y' Men in Love '(1980), respectivamente.
Explicitos, a veces impactantes y sobre todo liberadores, estos libros documentan las fantasías de mujeres y hombres que celebran su sexualidad.
The Secret Garden of Samantha ha sido creado por Jürgenson especialmente para la exposición en el Espronceda Center for Art and Culture en Barcelona, la ciudad donde fueron lanzados los primeros robots sexuales artificialmente Inteligentes por la compañía Synthea Amatus, fundada por el científico español Sergi Santos. Las muñecas sexuales han existido por más de 300 años, pero ahora están siendo revolucionadas gracias a la introducción de "cerebros" y sensores de ordenador, que les permiten a las personas interactuar con ellos.
Olga Jürgenson (Reino Unido / Estonia / Rusia) participa en importantes exposiciones colectivas a nivel mundial, incluidas la 56ª Bienal de Venecia, MANIFESTA 10, Liverpool, Moscú y Ural bienales. Olga recibió numerosas becas y premios de varias fundaciones europeas, en 2011 fue nominada para el Premio Kandinsky (Moscú, Rusia). Entre sus últimas exposiciones individuales se encuentran las del Museo Estatal del Hermitage, San Petersburgo, Rusia (2013), New Hall Art Collection, Universidad de Cambridge, Reino Unido (2014), European Photomonth, Budapest (2018). Las obras de Jürgenson se encuentran en colecciones públicas y privadas de todo el mundo. Olga fue curadora del Pabellón Nacional de Mauricio en la 57ª Bienal de Venecia, y asesora del programa de arte en Pushkin House en Londres (Reino Unido).
www.olgajurgenson.net
La artista quiere expresar su gratitud a Sergi Santos y Synthea Amatus por el amable préstamo de la muñeca sexual AI Samantha que estará presente en la exposición.