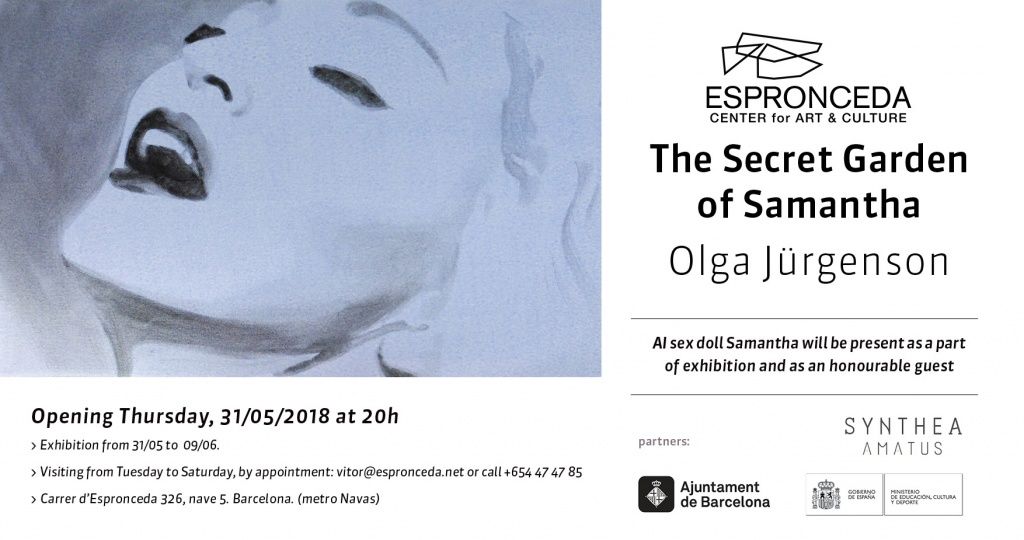 "El seu jardí secret no és com el meu".
Nancy divendres, 'Men in Love'
La idea d'aquesta instal·lació i la seva sèrie de pintures es va inspirar en l'augment de la popularitat i el ràpid desenvolupament en socis sexuals artificials, així com per un pioner de la investigació sobre les fantasies sexuals femenines i femenines, Nancy Friday, que els va publicar en llibres titulats "El meu secret Garden '(1973) i' Men in Love '(1980) respectivament.
Explicats, a vegades escandalosos i sobretot alliberadors, aquests llibres documenten les fantasies de dones i homes que celebren la seva sexualitat. The Secret Garden of Samantha ha estat creat per la Jürgenson, especialment per exposar al Centre d'Art i Cultura d'Espronceda a Barcelona, la ciutat on es van iniciar els primers robots sexuals artificialment intel·ligents a nivell mundial, fundada pel científic espanyol Sergi Santos, l'empresa Synthea Amatus.
Les nines sexuals han existit durant més de 300 anys, però ara es veuen revolucionades gràcies a la introducció de "cervells" i sensors d'ordinadors, que permeten a la gent interactuar amb ells. Olga Jürgenson (Regne Unit / Estònia / Rússia) participa en importants exposicions col·lectives a nivell mundial, inclosa la Biennal de Venècia 56, MANIFESTA 10, Liverpool, Moscou i Ural. Olga va ser guardonada amb nombroses beques i premis de diverses fundacions europees, el 2011 va ser nominada al Premi Kandinsky (Moscou, Rússia).
Entre les seves últimes exposicions individuals es troben les del Museu de l'Hermitage de l'Estat, Sant Petersburg, Rússia (2013), New Hall Art Collection, Universitat de Cambridge, Regne Unit (2014), European Photomonth, Budapest (2018). Les obres de Jürgenson es troben en col·leccions públiques i privades a tot el món. Olga ha comissariat el Pavelló Nacional de Maurici a la 57a Biennal de Venècia, informa sobre el programa d'art a Pushkin House a Londres (Regne Unit).
www.olgajurgenson.net
L'artista vol expressar la seva gratitud a Sergi Santos i Synthea Amatus pel seu amable préstec de la samarreta del sexe AI Samantha per estar present a l'exposició.