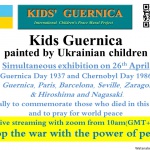 We are very honoured to collaborate during the last year with the International Peace Project Kid's -Guernica.
On the 26th Of April on the occasion of the 85th anniversary of the Civil War in Guernica, there will be the award ceremony for the Peace project and among them Kid's-Guernica. Savina Tarsitano will be present at the ceremony to represent Kid's Guernica and to take the award on behalf of the International Kids Guernica. In this difficult period of war we highlight the importance of Peace.
The Japanese initiative "Kids Guernica" that commemorates the 50th anniversary of the Hiroshima's nuclear attack and fosters a culture of peace among children and the «International Peace Brigades» who work for the protection of Human Rights in regions where there are crisis situations, will be awarded the "Gernika for Peace" on April 26 during the acts commemorating the bombing and the Culture and Peace Convention.
The Gernika Awards for Peace and Reconciliation were established in 2005 by the Gernika-Lumo and Pforzheim City Councils, the Gernika Peace Museum Foundation, the Gernika-Lumo House of Culture, Gernika Gogoratuz and the Basque association-German Wilhem Humboldt with the aim to make public the recognition for the contribution to the Construction of Peace and the promotion of Reconciliation, Human Rights and Social Justice.