RUFA-Rome University of Fine Arts  ha establert una associació constructiva amb Espronceda, el centre de Barcelona dedicat a la innovació i l'art contemporani. Per als estudiants, aquesta oportunitat suposarà una interessant oportunitat d'implicació en els projectes que s'iniciaran durant l'any. Fundat el 2013, Espronceda és un espai multifuncional dedicat a artistes i creatius. De fet, ofereix diversos serveis que van des del recinte firal fins a la comunicació, fins a la residència per a artistes i comissaris. També promou artistes internacionals, tant emergents com establerts, donant-los suport en el desenvolupament de les seves obres i la seva creativitat, per difondre la seva inspiració més enllà de la seva permanència física a l'espai. Espronceda ha transformat els antics espais industrials en una fusió de punta per a la cultura i l'art i fomenta la connexió amb la comunitat local i la creació d'una xarxa global entre artistes, empreses, institucions culturals i artístiques per a un canvi social a través de l'art.
Jurats: Savina Tarsitano, Holger Sprengle, Rufa University of Fine Arts
2016  ____________________________________________________________________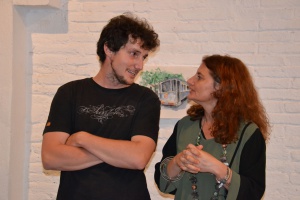 Spending Time in Barcelona de Christophe Costantin comissariat per Savina Tarsitano.
2017  ____________________________________________________________________