TIP – HYBRID RESIDENCY – Live online & Onsite Performance. 17/11, 20h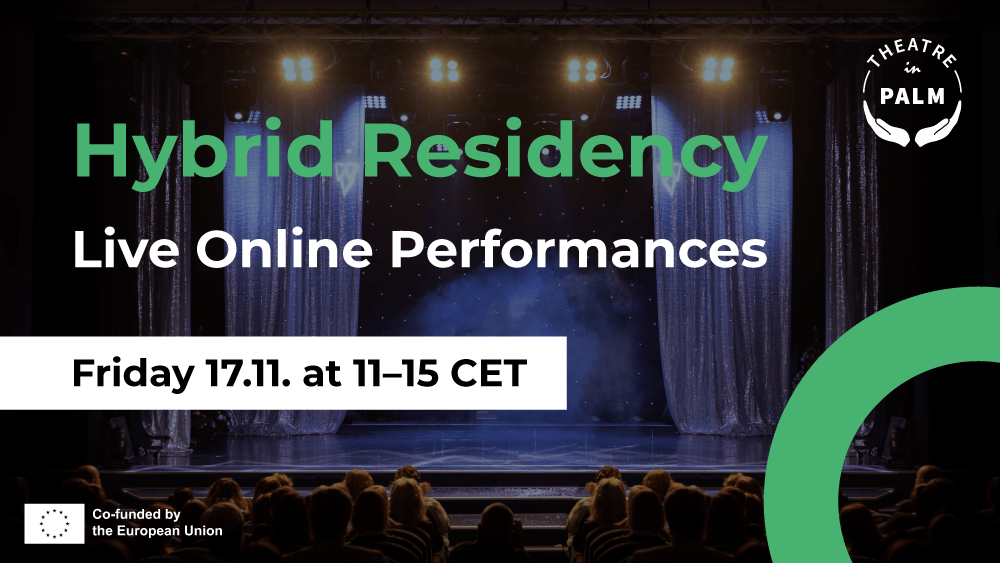 Join in to see and enjoy the performances created by the Hybrid Residency artists during their 2-week residency.
10 artist from 12 countries, that is amazing 120 talented emerging theatre and performing arts artists, work together live and online during two weeks and create together new and thought provoking performances. These will be performed and shared live on Zoom on Friday 17.11.2023 at 11-15 CET.
You can join in online from anywhere in the world and enjoy the intensity and magic of a live performance in the comfort of you home, sitting in a bus or anywhere where you can give your time and attention to art and theatre. Join here via Zoom. (Meeting ID: 672 3865 0796)
Performances:
The performances are worked on country TRIOs and each TRIO will produce a 45 minute performance. The performances are worked around the theme of Environmental Impact and will be united by one common element: organic material.
Planned schedule (all times in CET; changes possible)
11.00-11.50 TRIO Romania – Bulgaria – Cyprus (Homemade Culture – OECON Bulgaria – THOC)
11.50-12.40 TRIO Sweden – Greece – Finland (Intercult – CUBE – Turku Arts Academy)
12.40-13.30 TRIO Italy – Ireland – Belgium (E35 – Smashing Times – Efti)
13.30-14.20 TRIO Spain – Portugal – Netherlands (Espronceda – JÁIT – ZID Theatre)
14.20-15.00 Feedback comments, reflection and final words
If you are in Barcelona, we invite you to pop in and watch it closer! 8pm, at Espronceda Institute of Art & Culture.
THEATRE IN PALM The Theatre in Palm project is a European platform, born out of the Creative Europe project under the same name, which brings together 12 partners from all over Europe to collaborate in the promotion and support of emerging artists in the field of performing arts. The project aims to be an open and intercultural European platform for the performing arts that enables the circulation of artists and artists' works beyond Europe's borders. https://theatreinpalm.turkuamk.fi/
MORE ABOUT THEATRE IN PALM HERE.