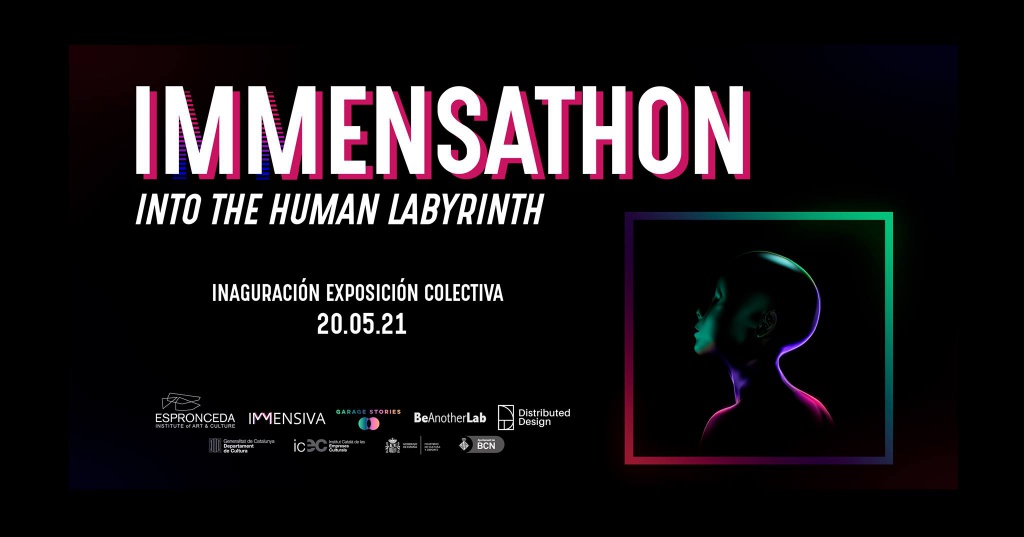 May 20-21, 2021
Inauguration on 05/20/21 at 6:00 p.m. Open until 10pm.
On 05.21.21 from 6pm to 10pm.
Address: Carrer d'Espronceda 326, nave 5, Barcelona
Free entry (limited capacity)
From IMMENSIVA, with the collaboration of Garage Stories and Be Another Lab, we are pleased to announce that the IMMENSATHON exhibition will open on Thursday, May 20 and will be open to the public that day and the next. We invite you all to visit it; It will not leave you indifferent.
IMMENSATHON is an immersive and interactive HackLab where artists and creatives from different disciplines and backgrounds will participate, from those that use technological means to those that are based on analog artistic supports. The result will be the collective experimental exhibition "Into The Human Labyrinth", the result of co-creation during the HackLab last weekend. The route of the exhibition will be in the shape of a maze and will be designed by architects and makers. In turn, the labyrinth will contain the pieces of different supports that the participating artists create for the occasion. For this, Espronceda has made the necessary means and resources available to all of them.
Through the combination of emerging media, these experimental pieces will make us reflect on the complexity of human relationships and on a future where technology helps us to be more human.
IMMENSATHON is raised from the principles of the new European Bauhaus (New European Bauhaus), which wants to make the Green Pact a cultural experience, centered on the human being, positive and concrete. Everyone should be able to feel, see and experience ecological and digital transformation and the way it improves our quality of life. https://europa.eu/new-european-bauhaus/index_es