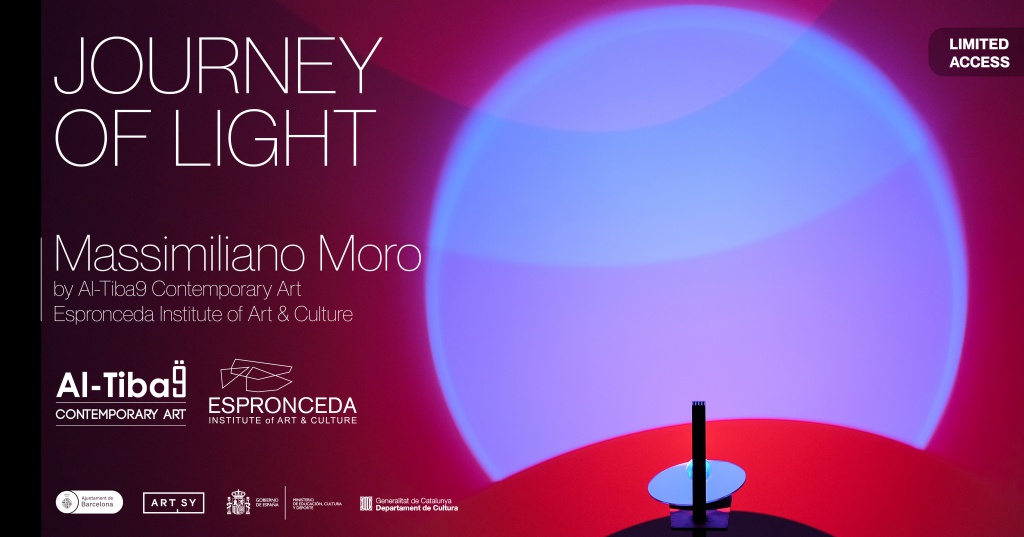 Nos complace anunciar la exposición que abre el año 2021 en ESPRONCEDA Institute of Art & Culture en colaboración con Al-Tiba9 Contemporary Art
VIAJE DE LUZ (VIAJE DE LUZ)
Al inaugurar la exposición individual "JOURNEY OF LIGHT" del artista Massimiliano Moro en Espronceda, el curador Mohamed Benhadj da la bienvenida a todos para que suban a bordo para un viaje de percepción. La percepción es esencial para nuestra capacidad de responder al momento presente, para determinar qué es real y también qué es posible; esta experiencia redefine y reconstruye la relación de la luz y la sombra con el espectador y las estructuras existentes. El espectador es impulsado a un modo de reflexión con el uso de elementos simples en su interacción con la luz, la sombra y el espectador, el espacio, el tiempo y el movimiento.
"Journey of Light" lleva al espectador a través de dos etapas, pasando de lo familiar a un espacio donde el uso de la luz como escultura dinámica crea una energía transformadora. Las áreas oscuras están dando paso a iluminaciones precisas, proyectando color y forma contra la arquitectura de la galería. Justo cuando los visitantes comienzan a cuestionar y comprender esta nueva dimensión, se ven empujados a un estado de conciencia elevado al ingresar al segundo espacio, donde aguardan esculturas aún más grandes y un uso más dinámico del color, la sombra y las formas. El espectador se libera de intentar analizar y al fin es libre de simplemente ver.
El espacio familiar minimalista blanco de la galería es de pronto una atmósfera dinámica, donde el tiempo y la dimensión nos han recordado mirar donde normalmente no miramos, ver sin intentar comprender, ser testigos del diálogo entre la luz y los espacios físicos que ocupamos. .
La realidad ya no se manifiesta como descripción de hechos, sino como reflejo en el que se refleja una experiencia. Tal reflexión puede servir a nuestra humanidad más profunda en un mundo que nos recuerda cada día los peligros de depender únicamente de lo que alguna vez fue familiar.
Por favor reserve su boleto HERE 
Más sobre  Al-Tiba9