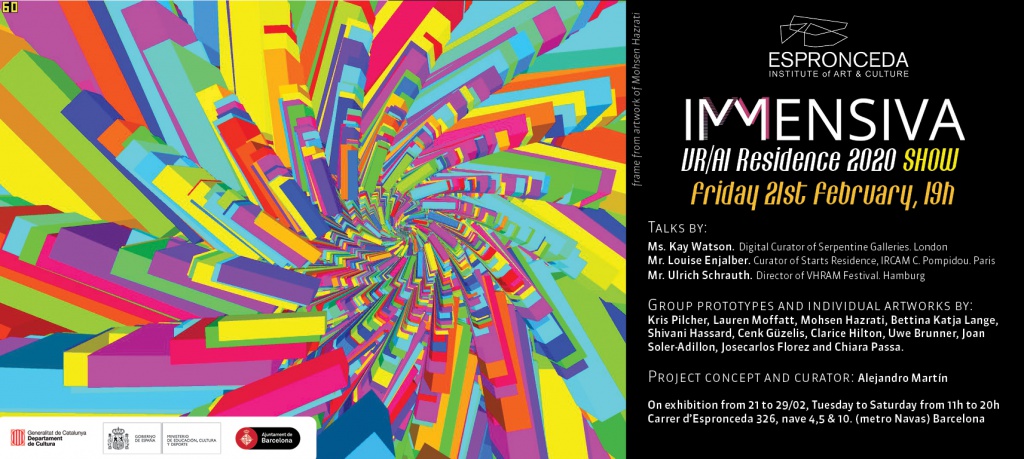 Espronceda, Institute of Art and Culture ha organizado durante Febrero de 2020 la primera IMMENSIVA VR/AI Residence, donde artistas internacionales que trabajan con realidad virtual (VR) y aumentada ( AR) , programan en code, usan sensores, buscan big data de satélites e interactúan con otras nuevas tecnologías, comparten residencia durante tres semanas para co-crear proyectos inter-disciplinares en grupos y asesorados por comisarios internacionales de arte new media.
La residencia culminará con el evento IMMENSIVA VR/AI Residence SHOW 2020, que a imagen de los Degree show de Goldsmith University London y Open Rijsakademie Amsterdam, quiere ofrecer al visitante los prototipos creativos que ideado los artistas y también una muestra de su anterior trabajo individual.
Para comenzar el evento se cuenta con importantes conferenciantes:
Ms. Kay Watson, digital curator de Serpentine Galleries London, y Ms. Louise Enjalbert curator STARTS residences IRCAM C. Pompidou, seguido de una mesa redonda con el de VHRAM Festival, Mr. Ulrich Schrauth.
La exposición mostrará cuatro proyectos que han sido creados en grupo durante la residencia:
SKNXSYTNH, a xenotransplantative skin, por los artistas Cenk Güzelis, Mohsen Hazrati y Josecarlos Florez. Este proyecto sobre la expansión corporal y de la piel entre el mundo real y digital utiliza nuevas tecnologías como sensores cinéticos, VR, o transformación de datos en sonidos a través de un algoritmo, con una performance analógica del artista.
La experiencia se expande en le espacio a través de proyecciones y sonidos.
Invisible Universe ,a VR Prototype by Kris Pilcher, Lauren Moffatt and Mohsen Hazrati. Es una experiencia de realidad virtual y de proyección interactiva donde el ser humano se sitúa en paisajes cambiantes según los big data que recibe de la observación espacial realizada por el telescopio Charles Allen que explora varios puntos del Universo
Occultation. Experiencia VR y performance sensorial realizada por los artistas Uwe Brunner, Bettina Katja Lange, Chiara Passa y Joan Soler-Adillon. A través de una experiencia VR performativa el espectador interacciona con formas y objetos en el espacio real y estos se transforman virtualmente.
Frictional Forces. Proyecto VR y performance de las artistas Shivani Hassard y Clarice Hilton. Se trata de una experiencia Virtual en que se actúa a nivel analógico sobre el cuerpo, se siente la resistencia de materiales, vibraciones de sonido. El resultado es una experiencia multisensorial.
Para conocer mejor el trabajo previo de los artistas se expondrán algunos de sus proyectos individuales anteriores, como la psicodélica VR de Mohsen Harazti : Tey-Al-Tool Interactive, la experiencia volumétrica interactiva en VR de Lauren Moffatt: Beyond the Rubicon, 2019, en la que explora emoción y memoria, y muchos otros.
IMMENSIVA VRAI Residence SHOW 2020 quiere acercar al público de Barcelona la inmensidad creativa que surge del trabajo inter-disciplinar, la aplicación de las nuevas tecnologías y la co-creación donde el grupo supera los hitos individuales. Una experiencia de innovación artística y metodología inter/ anti disciplinar con vocación humanista y una curiosidad sin límites.
La exposición estará abierta al público después de la apertura hasta el 29 de febrero, de martes a sábado, de 16h a 20h.
About the artists:
Mohsen Hazrati
Kris Pilcher
Bettina Katja Lange
Josecarlos Florez
Joan Soler-Adillon
Shivani Hassard
Clarice Hilton
Lauren Moffatt
Chiara Passa
Uwe Brunner
Cenk Güzelis