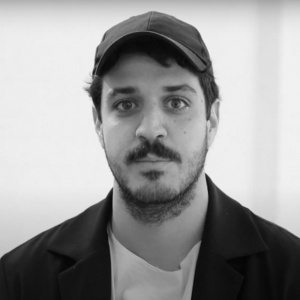 About the artist
Cenk Guzel és un arquitecte amb seu a Innsbruck i un artista de nous mitjans, graduat a l'Acadèmia de Belles Arts de Viena. Actualment és estudiant de doctorat i assistent universitari a l'Institut d'Arquitectura Experimental. / Studio3 en el desenvolupament de la seva investigació sobre entorns virtuals interactius amb visions neuroòptiques per ajudar les persones que pateixen trastorns de l'estrès postraumàtic amb trastorn de desrealització i despersonalització. La seva instal·lació, Emilia, The
Màquina utilitza aparells de captura i suports, específicament dispositius de seguiment de moviment i pantalles muntades al cap i Focusin en l'enfocament de la transferència d'experiència dels cossos virtuals als cossos biològics.
Mitjançant la interconnexió de modes cognitius sensorimotors i perceptius amb l'actualitat espaciotemporal digital, el seu projecte pretén negociar els símptomes del post-trastorn en entorns virtuals enactius que està dissenyat per reconnectar el cervell causat pel trauma. En observar com les persones traumatitzades interactuen amb les seves selves virtuals en entorns virtuals de trauma, la seva investigació observa la influència de la tecnologia en la remodelació de la identitat personal.
Va treballar a la fabricació assistida per ordinador a la Plataforma per a la producció analògica i, l'Institut d'Art i Arquitectura, l'Acadèmia de Belles Arts de Viena i diversos tallers LIDAR i d'animació a Dinamarca i Àustria. El 2016, amb l'equip de LAAC d'Arquitectura amb seu a Innsbruck, va treballar en el Projecte cinematogràfic "Convivència" per al Pavelló de Montenegro a la 15a Biennal de Venècia. Els seus curtmetratges van ser projectats i guardonats en festivals a Europa i als Estats Units. El 2017, el seu curtmetratge The Aleph va rebre el 45è festival de cinema de ciència ficció de Boston a la millor animació curta.