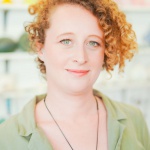 Laura Such is an award-winning artist based in Southwold, Suffolk, UK. Her work
explores a myriad of themes including feminism, social injustices, and the human
condition. The relationship between material and form is often held together through a
humorous, tense, and sometimes fragile connection.
Working with both contemporary and traditional materials her work is positioned firmly
within the canon of sculpture, while her use of found objects and humour traces a line
back to the extraordinary world of Dada. Some of her works can be considered as
monuments to failure and the absurd, while some pieces are celebrations of femininity,
of life and of death. What it means to be a human.