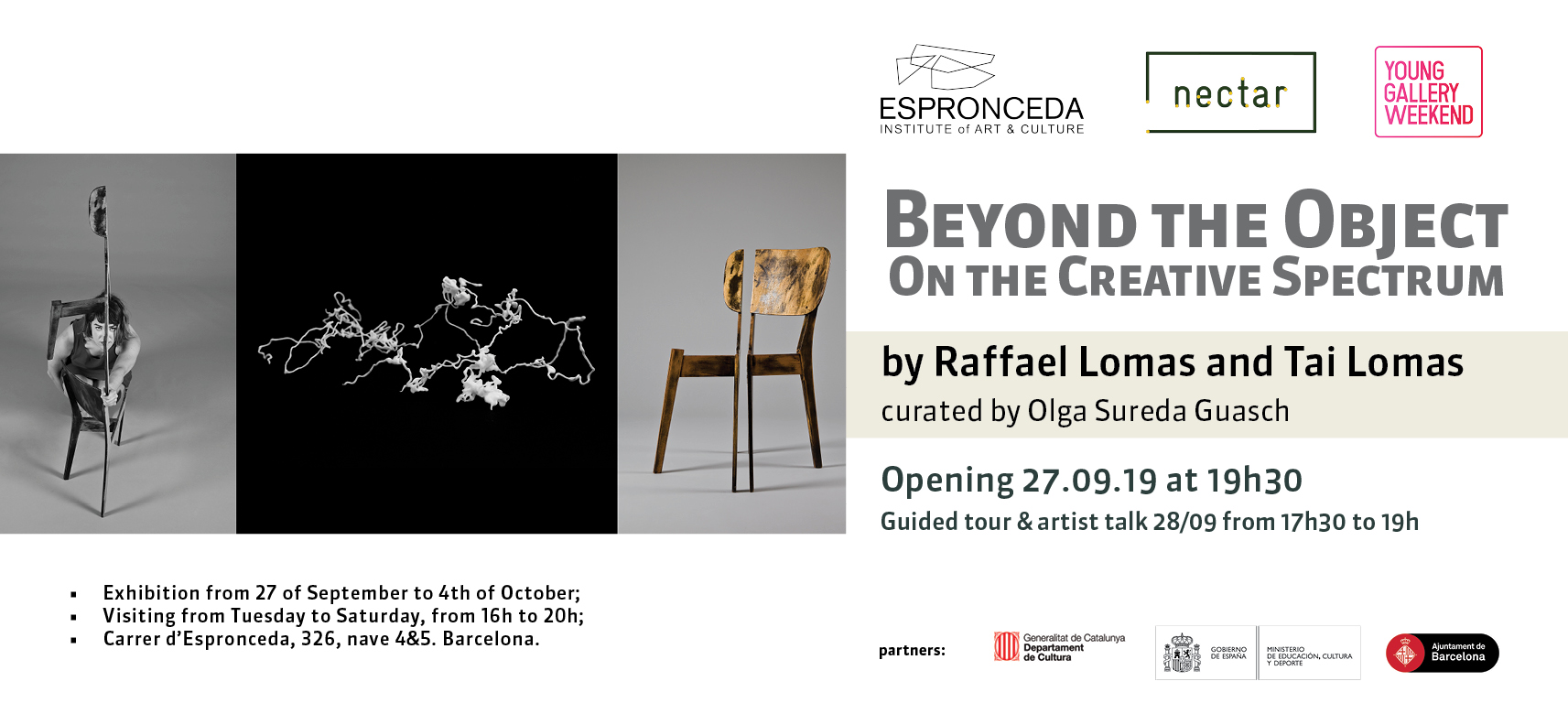 L'exposició Beyond the Object. On the Creative Spectrum és el resultat del treball col·laboratiu entre l'escultor Raffael Lomas i el fotògraf Tai Lomas en el qual, mitjançant un diàleg artístic, el procés de la creació va més enllà d'allò merament objectual per a generar noves relacions multidisciplinàries que provoquen noves aproximacions conceptuals a l'obra d'art. Prenent com a punt de partida un objecte ready-made – la cadira – Raffael Lomas transforma i manipula la realitat a través d'un llenguatge escultòric en el que, sense afegir o treure materialitat, crea una nova identitat que desplega múltiples significats. Aquesta nova escultura representa l'inici d'un altre procés creatiu entre escultor i fotògraf que dóna pas a la sèrie Simultaneously. Aquí, Tai Lomas converteix la tridimensionalitat objectual en bidimensionalitat. Busca capturar els aspectes amagats de l'escultura permetent a l'espectador d'expandir la seva experiència i contemplar simultàniament tres punts de vista diferents del mateix objecte escultòric, descobrint noves narratives i identitats.
Aquest procés creatiu es continua desenvolupant quan Raffael Lomas talla les cadires en dos (obrint una nova branca dins del llenguatge escultòric), habilitant la possibilitat de moviment dins de la pròpia escultura. Així és com Tai Lomas s'acosta a ella, investigant la gravetat de l'espai buit que hi ha entre les dues parts de la cadira, allò present i absent, i preguntant-se què passaria si un cos habités el mateix espai buit que habiten les escultures. Aquesta qüestió porta a ambdós artistes a plantejar-se una innovadora fase de dialèctica que neix d'una nova relació multidisciplinària amb la dansa. Convidant a ballarins de tot el món a interactuar amb les escultures, es produeix un nou espai de diàleg entre dues qualitats oposades, l'immòbil i l'estable (la cadira escultura) i el mòbil i viu (els cossos).
En Musical Chairs, Tai Lomas plasma l'efímera i immaterial essència de la dansa congelant el moviment dels ballarins en diàleg amb l'escultura, creant escultures fotogràfiques.
Tots dos artistes busquen capturar i materialitzar aquest moviment creat del ball entre cos i escultura oferint una nova imatge, resultat de la memòria del moviment del cos en l'espai . Una memòria que, a través d'una cambra tridimensional, es tradueix en un traç que, a la vegada, reverteix en el punt de partida convertint-se en objecte.
Aquest objecte és el resultat d'una nova seqüència relacional on moviment pren cos en la matèria i que podem veure a la sèrie Metamorphosis, la qual consta de set escultures iguals en forma però diverses en matèria (bronze, or, fibra de carbó, coure, plàstic blanc, platí i cristall). Iguals i úniques alhora, representant, doncs, una rellevant aportació a la definició de sèrie escultòrica ja que l'original de l'escultura parteix de quelcom efímer: el rastre d'un moviment.
És la cadira simplement una cadira, són les imatges fotogràfiques únicament fotografies, són els instants simplement temps o també poden ser matèria?
A Beyond the Object. On the Creative Spectrum, Raffael i Tai Lomas naveguen en un espectre quàntic creatiu investigant les infinites possibilitats i identitats d'un objecte, els seus aspectes ocults, l'essència de la seva transformació i la simultaneïtat de la seva existència, fent visible allò invisible i material allò immaterial. Un espectre en el que diferents llenguatges, disciplines, espais i presències s'entrellacen per anar més enllà de l'objectual, explorant noves formes d'entendre, en definitiva, l'univers.
Sobre els artistes: