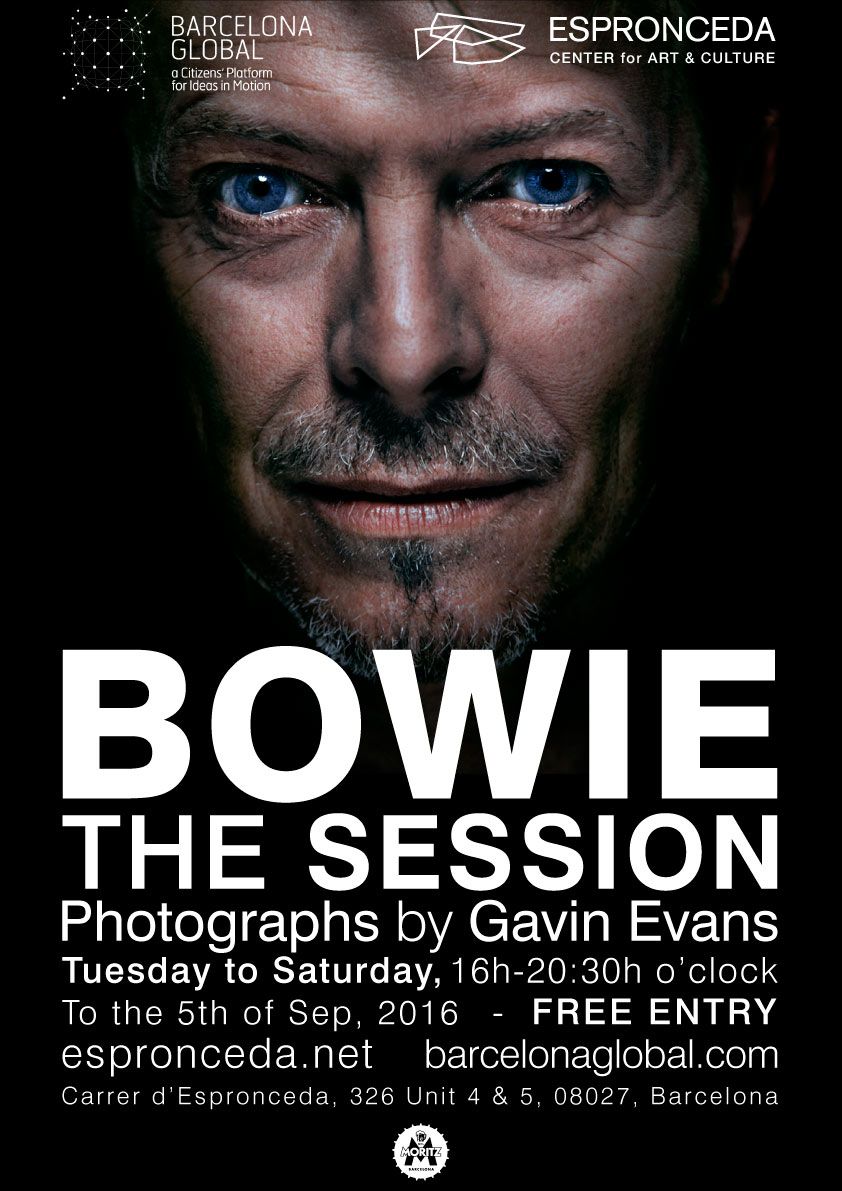 Bowie The Session Fotografies de Gavin Evans
Inauguració el dijous 14 de  juliola les 20.30h
Exposició del 15 de juliol a l'1 de setembre
El fotógrafo Gavin Evans es conocido por su intransigente estilo de retrato. Un gran número de celebridades, como Juliette Binoche, Daniel Craig, Dusty Springfield, Morrissey,Nick Cave, Iggy Pop, Ozzy Osbourne, Björk y Terry Gilliam han pasado por delante de su lente. Evans ha aparecido en gran cantidad de publicaciones de todo el mundo, incluyendo el New York Times y el El Sunday Times Magazine. En 2015, el Festival Internacional de Edimburgo, el mayor festival de arte del mundo, fichó a Evans para renovar su imagen visual.
The Session refleja de forma conmovedora al hombre detrás de la leyenda. La habilidad de Evans para desenmascarar a sus sujetos se refleja perfectamente en esta terrenal representación del Starman. The Session es un revelador retrato de un expuesto, exuberante y contemplativo Bowie.
Las imágenes de esta aclamada sesión fotográfica han sido mostradas en portadas de las mejores revistas y periódicos del mundo desde el encargo original, en 1995, por parte de Time Out Magazine. El libro de Steve Pafforrd, 'Bowie Style', el de Christopher Sandford 'Loving the Alien', y la biografía escrita por David Buckley 'Strange Fascination: David Bowie: The Definitive Story', cuentan con imágenes de Evans en su portada. Las instantáneas de Evans con Bowie solo han sido superadas (en copias y reproducciones), por la foto de portada de Aladdin Sane, del fotógrafo Duffy.
Lo que distingue a las fotografías de Evans es su conexión única entre el artista y el fotógrafo. De todas las instantáneas tomadas al artista durante su carrera, una de las de Evans se convirtió en la preferida de Bowie. Bowie pidió que la imagen, en la que se le mostraba perdido y vulnerable, ilustrase la portada y la página de final del libro de la exposición "Bowie Is", del museo Victoria and Albert de Londres. La misma fotografía fue colgada en la oficina del cantante en Manhattan.
La exposición The Session, tras su paso por Berlín a principios de este año, llega a Barcelona para mostrarse al público del 14 de julio de 2016 hasta el 1 de septiembre del 2016, en el Espacio Espronceda.
Videos de la exposición