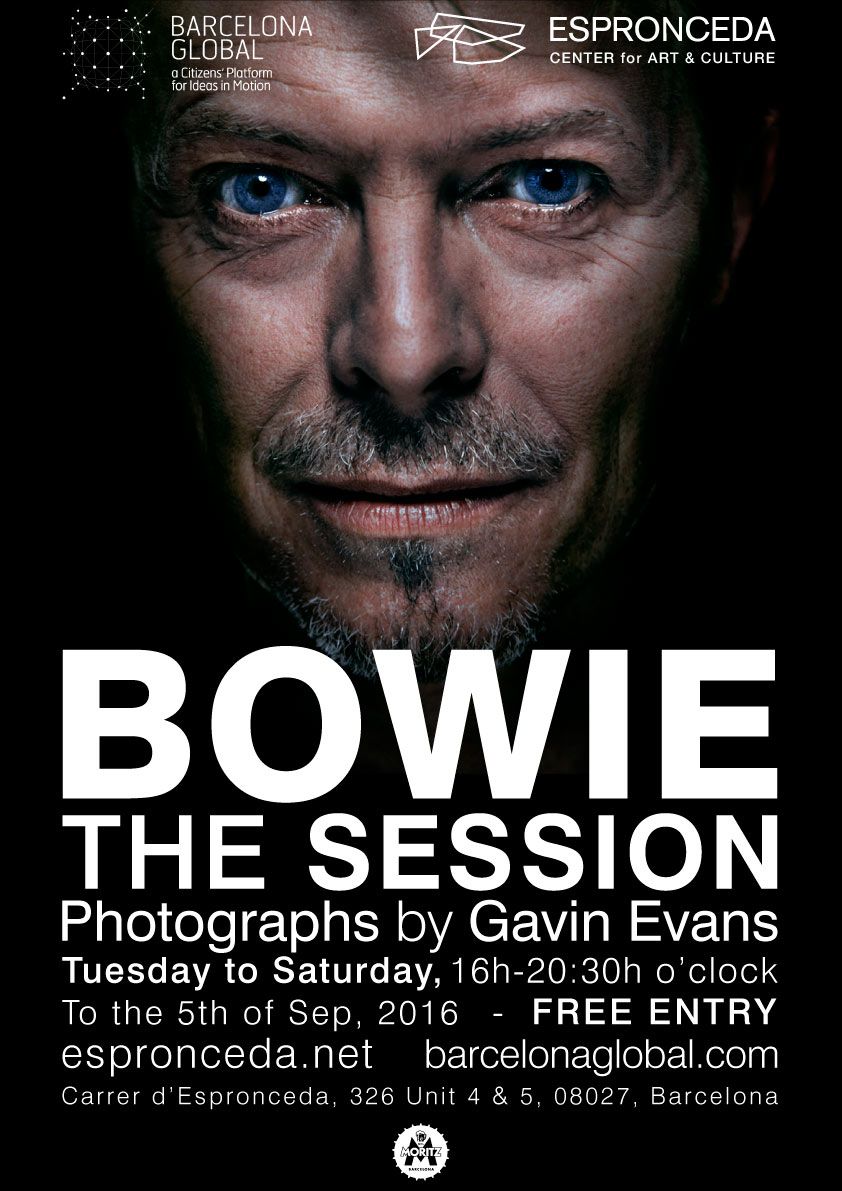 Bowie The Session Photographs  by Gavin Evans
Opening on Thursday 14th of July, 20.30h
Exhibition from 15th July to 1st September
Berlin based photographer Gavin Evans is renowned for his uncompromising take on portraiture. A roll call of luminaries including Juliette Binoche, Daniel Craig, Dusty Springfield, Morrissey, Nick Cave, Iggy Pop, Terry Gilliam, Ozzy Osbourne, Björk and Terry Gilliam have braved his lens. Evans has been commissioned by many of the world's leading publications including The New York Times and The Sunday Times magazine. In 2015 The Edinburgh International Festival enlisted Gavin to visually rebrand the world's biggest arts festival.
The Session is a touching and intimate exposé of the man behind the legend. Evans' ability to unmask his subjects resonates throughout this earthly depiction of the Starman. The Session is a revealing portrayal of an unguarded Bowie- exuberant, contemplative and exposed.
Images from the acclaimed shoot have been displayed on covers of magazines and newspapers worldwide since the original commission in 1995 by Time Out magazine. Steve Pafforrd's book 'Bowie Style', Christopher Sandford's 'Loving the Alien' and aficionado David Buckley's biography 'Strange Fascination: David Bowie: The Definitive Story' all feature Evans' images on the cover. Only Duffy's cover image for Aladdin Sane has been copied and counterfeited more than Evans' portraits of Bowie.
What distinguishes Evans' remarkable photographs is a unique connection between artist and photographer. Of all the photographs taken of David Bowie, one of Evans' became Bowie's personal all time favourite. Bowie requested the image of him appearing lost and vulnerable to run on the cover and final page of the V&A's 'Bowie Is' exhibition book. The same photograph also hung in his Manhattan office.
After being shown in Berlin at the beginning of the year, the exhibition arrives in Barcelona to be shown from July 14th 2016, until September 1st 2016, in Espacio Espronceda. The exhibition features remastered and previously unseen images on display for the first time.
Videos of the exhibition