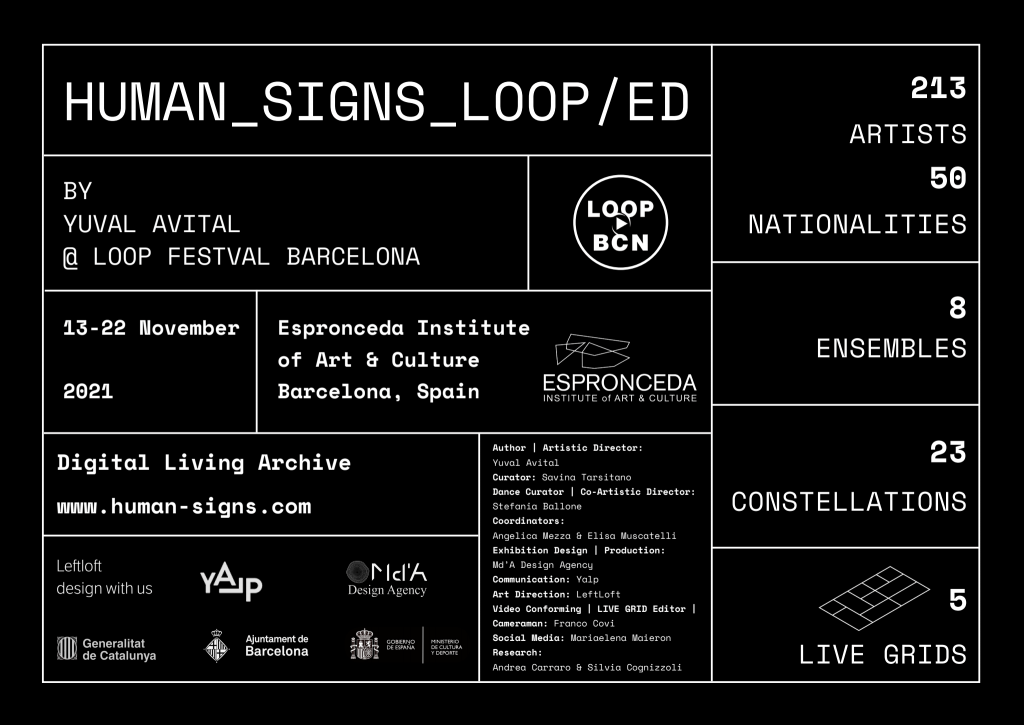 Per primera vegada des de la seva creació, l'obra monumental de Yuval Avital que reuneix més de 200 artistes de tot el món es presentarà a l'Institut d'Art i Cultura d'ESPRONCEDA amb motiu del LOOP BARCELONA: CITY SCREEN 2021, un dels festivals d'art de vídeo més importants d'Europa que se celebren a Barcelona cada any.
El projecte participatiu HUMAN SIGNS, una veu global i obra d'art gestual, és concebuda per l'artista i compositor multimèdia Yuval Avitalin col·laboració ambStefania Ballone, ballarina i coreògrafa del Teatro alla Scala.
Una anomalia artística, no produïda o encarregada per cap entitat, sinó desitjada pels mateixos artistes. Nascuda durant la reclusió COVID-19, interpretant l'estètica viral d'aquest únic moment històric, els signes humans han reunit fins ara més de 200 intèrprets de 50 països, cadascun proposant un testimoni d'art individual profund que convergeix en un poderós fresc multimèdia expressiu. El testimoni d'art vocal de 12 minuts de Yuval, auto-filmat durant la reclusió, expressa el seu estat més íntim i es converteix en una capa fonamental a la qual tots els artistes es relacionen com una línia de temps, musicalitat i guia d'intensitat (Similar al concepte renaixentista de Cantus Firmus), permetent aquest mètode potencialinfinit interconnexions entre tots els participants, creant cors, Ensembles, Constel·lacions i diàlegs íntims. Amb un sentit profund d'unió, els signes humans pretenen superar la distància física i l'aïllament, per tant, ens convida a explorar de manera diferent els espais, llengües, i formes d'interconnexió, com a part d'una reflexió col·lectiva en un moment històric únic. HUMANSIGNS es va presentar en línia com una obra d'art multimèdia a través de l'Arxiu Digital Vivent i fora de línia a través d'actuacions en viu en cinc ciutats diferents al voltant del món (Nova York, Sant Petersburg, Tel Aviv, Milà, Torí).L'exposició porta els visitants a l'univers dels signes humans a través de tres capítols. El primer element serà el políptic animmersiu de set projeccions paral·leles, en què un flux constant de les actuacions autofilmades dels artistes crea un conjunt idealment infinit. El segon element de l'exposició permet als visitants reunir-se virtualment amb els artistes i escoltar directament totes les emocions diferents que experimentaven mentre participaven en l'actuació, i veure les actuacions en VIU que van tenir lloc en els últims mesos a tot el món. El tercer element és la sala d'anaperiència, en la qual cada visitant és capaç de comprometre's completament amb l'obra com a intèrpret que utilitza la seva veu i cos en el diàleg amb el cant ferm de Yuval Avital. L'exposició també acollirà una nova reixeta en directe amb artistes de Barcelonain dialogant amb els vídeos dels voltants.
Curat per Savina Tarsitano
Opening 13 November, 7.30 PM.
13-22 November 2021
Yuval Avital: Born in Jerusalem in 1977 and living in Milan, Yuval Avital is a multimedia artist, composerand guitarist who develops his works in a variety of spaces, including public places, industrialarchaeologicalsites, theatres and museums, challenging the traditional crystallized categories thatseparate the arts. His exhibitions, performances, immersive installations, total works, large-scale sound"rituals" and concerts involve dancers, contemporary music ensembles, masters of ancient cultures andtraditions, individuals or communities recruited in participatory works, multi-projection video, meditativetactile environments, advanced technological tools, archival materials, collaborations with scientifi institutions, sound sculptures, objects, painting and printed works. Each of Avital's artworks is a uniqueexperiential, poetic and emotional microcosm with its own identity, fruit of a meticulous research carriedout in a carefully coded language, confronting the recurring themes of archetype and structure; ancestraland current global-era human condition; nature and hybridity; ritual and science. Avital's sound and visualartworks have been presented in museums, art foundations, venues and art events such as MANIFESTA Biennial,GAM-Torino, MACRO Museum of Contemporary Art Rome; OSTRALEDresden Biennial, La Fabbrica del CioccolatoFoundation in Switzerland, Saint Antoine Church Istanbul, Marino Marini Museum in Florence; National Scienceand Technology Museum "Leonardo da Vinci" in Milan. In 2021, he held his first solo exhibition ETERE in Milan, in September, he participated in both Milan Design Week and Miart with the site-specific installationMIKVE' (Holy Bath)at Bagni Misterious. He also participated in the exhibitionSocial Impact is an Art n.41one + 1one = 3three, organized by the International School of Geneva in collaboration with Cittadellarte-Fondazione Pistoletto ONLUS, Kids Guernica Foundation, Anouk Foundation, Switzerland for UNHCR and theUniversity of Geneva.
Stefania Ballone: She graduated at "Scuola di Ballo del Teatro alla Scala", from 2000 is part of thetheatre's corps de ballet, where she participates in all the season's productions, also interpreting soloroles. While dancing at the Teatroalla Scala, she is constantly involved in choreographic projects fortheatre for several and different movement expressions. She participated at the Positano Prize, 2006 and atthe Venice Biennale Dance Festival in 2007, as a dancer and assistant of the choreographer FrancescoVentriglia. In 2011, she graduated in Modern Literatures at Università degli Studi di Milano, and alsodebuting with her first choreographyPer una voltaat Parma Royal Theatre. In 2014, she graduated with aMaster in Sciences of Theatre and Performing Arts at Università degli Studi di Milano, with a thesis onBallet at the Teatro alla Scala in the Nineties. She curated the artistic show at L'Aia di San Giorgio,Vignacastrisi;Prima che si fa note,pianoforte e danza per resistere albuio, 2020; the choreographyLaValsefor the Teatro alla Scala's corps the ballet,2017; the direction and choreography for the showtreD:Design, Danza,Disability, Design Triennale, 2016;the choreography of the 30st edition ofMilanoltreFestival, 2016. She participates as dancer inAlter balletto, showShortcutby Emanuela Tagliavia,2020;Dresden Biennale, 2019;Nothing to sell,MacroMuseum, Rome, 2019;Foreign Bodiesby Yuval Avital, FondazioneFabbrica del Cioccolato, Switzerland2017. In 2019, she starts an artistic collaboration with the pianistFrancesco Libetta. Among her prize: Dance Prize, Siracusa; Perugia International Dance Contest; VolterraDance Prize, 2011; Europa in danza Prize,2016; Mads Price for Dance in Salerno, 2019; theChoreographyContest's final in Sens with her pas de deux Thunders and lightnings, 2018.
CORE EXHIBITION TEAM
Author:Yuval Avital
Curator:Savina Tarsitano
Head of Production:Ovidiu Valeriu Bojour
Exhibition design:Maddalena d'Alfonso
Assistant exhibition design:Sebastian Rodriguez Mendieta
Main installation video editing:Yuval Avital
Additional video editing:Franco Covi
Assistant artistic director:Angelica Mezza
Press office:Elisa Muscatelli and Sara MonariLiaison
Communication:Renata Procópio
Graphics and communication:Kiana Telebpour
HUMAN SIGNS CREATIVE TEAM
Author and Artistic Director:Yuval Avital
Dance Curator and co-artistic director:Stefania Ballone
Coordinators:Angelica Mezza and Elisa Muscatelli
Production:Md'ACommunication:Yalp
Art Direction:LeftLoftVideo conforming,
LIVE GRID editor and cameraman:Franco Covi
Social Media:Mariaelena Maieron
Research:Andrea Carraro and Silvia Cognizzoli
Opening 13 November 7.30 PM13—22 November 2021| 4.00-7.30 PM
ESPRONCEDA Institute of Art & Culture, C. d'Espronceda, 326, Nave 4 y 5, 0802