European Theatre LAB and Theatre in Palm Local Event two events in the context of the European project THEATRE IN PALM
EUROPEAN THEATRE LAB: Stepping in someone else's shoes; The Library of Ourselves; A social VR station for research on empathy through embodied Storytelling. VR experience by BeAnotherLab collective.
THEATRE IN PALM LOCAL EVENT: CICLIC audiovisual live performance by INFIM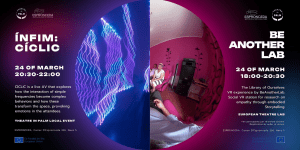 24.03.2023
Programme: 
From 18.00 to 18.30 Introduction and presentation by BeAnotherLab.
From 18.30 to 20.30 virtual reality experience (15min per 2 persons).
From 20:30 to 21:00 Presentation of Performance and Artistic Research
From 21:00 to 22:00 Live Audio Digital Performance
Library of Ourselves, by BeAnotherLAB. The Library is based on the technology of The Machine to Be Another and enables the creation and experience of immersive and embodied 360 VR FILMS. These VR filmes allow users to step into the shoes of a storyteller and to experience their narrative from their point of view. Each VR film is deeply immersive experience of another's first person perspective, without losing the quality of embodied tactility for which The Machine is famous. During this event, participants will be able to understand the artistic research of the BeAnotherLab collective and then try to put themselves in the shoes of another person by living a mixed performance experience between real and virtual.
CíCLIC, a live Audio Video that explores how the interaction of simple frequencies become complex behaviors and how these transform the space, provoking emotions in the attendees. The visual research starts from the own nature of light from a minimalist look through laser light. This light, monochromatic and with a narrow beam, represents the minimum expression of light despite its technical complexity: a point and a color. The succession and movement of these two tiny elements generates different effects, colors and geometric patterns. Chaos and harmony reflected in the space with an aesthetic sense and allegorical potential.
More about Theatre in Palm:
Theatre in Palm – A platform for supporting emerging artist cooperation and resilience | theatreinpalm.com (turkuamk.fi)