APPLICATION THEATRE IN PALM HYBRID RESIDENCY
Deadline: 6.9.2023
Would you like to participate in a joint hybrid residency of 12 European countries in November?
Would you like to have the opportunity to do a residency in Barcelona and later in Lisbon or Amsterdam? Are you passionate about biodiversity conservation and ecology and would you like to explore these topics and turn them into performance research work?
As part of the European project Theatre in Palm, an international project funded by Creative Europe, the Espronceda Institute of Art and Culture will host a hybrid residency from 6 to 17 November 2023.
The residency is aimed at artists working in the performing arts, resident or domiciled in Spain.
The open call will select 10 Spanish artists who will work both live and online with 20 other international artists from ZiD- City Art and Performance Center de Amsterdam y Já Internationa Theatre de Lisboa.
The first week of the residency will take place at Espronceda's Institute of Art & Culture, while for the second week, 5 artists will fly to Lisbon and another 5 will fly to Amsterdam. At the end of the two weeks, the residency will conclude with the creation of 3 new co- produced works. These performance projects will be presented online with the entire group of 120 artists from
the other theatres in the Palm Countries, plus 12 mentors and the rest of the world online and physically in Espronceda's spaces.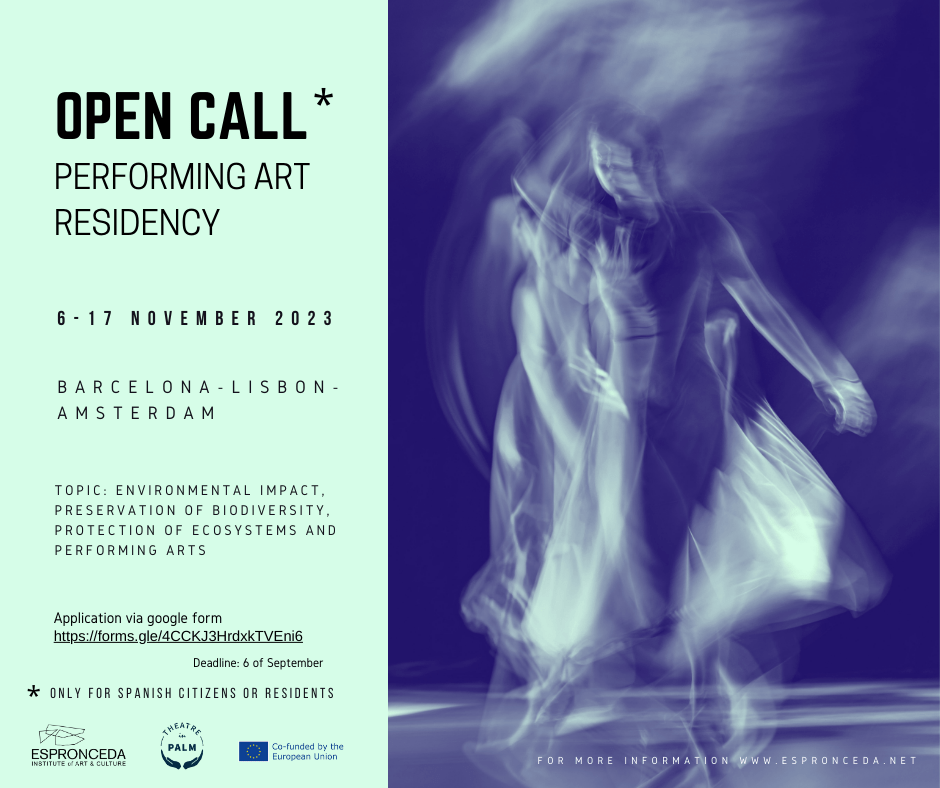 Take a chance to learn, connect and get inspired!  
THE TOPIC OF THE RESIDENCY
Environmental Impact, preservation of biodiversity, protection of ecosystems, and performing arts
WHAT WE OFFER:
1) One-week residency in Espronceda (Barcelona)
Accommodation costs are covered from 6 to 10 November 2023
2) One-week residency in Lisbon or Amsterdam.
Travel and accommodation expenses are fully covered for Amsterdam or Lisbon from 10 to 17 November 2023.
3) The creation of a collective co-produced performance work.
The final works will be presented both online to an international audience and physically at Espronceda Institute of Art and Culture in Barcelona.
4) International networking and mentorship program. Ongoing training with international mentors and experts will be offered, together with networking opportunities with artists and experts from 12 European Countries
HOW TO APPLY
The call for applications is open from 22 June to 6 September 2023.
The application must be accompanied by a CV, (possibly a portfolio) and a motivation letter explaining why you would like to participate in this Hybrid Residency.
You can apply and send your application by responding to this link:https://forms.gle/4CCKJ3HrdxkTVEni6 
or by sending the documentation to: alessia@espronceda.net and/or  liza@espronceda.net
RESIDENCY PROGRAM
Hybrid Residency will take place for two weeks in 12 countries simultaneously in November 2023. In the Hybrid Residency, all 12 Theatre in Palm countries works in TRIOS:
Finland-Sweden-Greece
Ireland-Italy-Belgium
Spain-Portugal-Netherlands
Bulgaria-Romania-Cyprus
COMMON SCHEDULE
The Hybrid Residencies in each Theatre in Palm Country have different working schedules for their TRIO residency work.
WEEK 1 (6–10 NOVEMBER)
Monday 6 November: Arriving at the local residency. A joint start online at 13.00–14.00 CET in a large international group. Starting residency work in TRIOS towards the performance date on 17 November.
Local residency Mon-Fri 6–10 November: 10 artists-in-residency, together with the local mentors, meet in person locally and work online with two other residencies. A more detailed schedule will be available from the local contact person in Theatre in Palm countries. During the weekend between residency weeks, the artists will travel abroad, where they will continue to work with their own group live (as part of the TRIO).
WEEK 2 (13–17 NOVEMBER)
ALL TRIOS will produce three approximately 15-minute performances streamed online at the end of the 2nd week on Friday 17 November. Trios can also decide to combine the performances into one 45-minute performance.
Monday 13 November: From 13.00–14.00, online check out -meeting for the coming week by all residencies
Tuesday 14 November: Every 12 residencies work with 10 artists
Wednesday 15 November: Every 12 residencies work with 10 artists
Thursday 16 November: Every 12 residencies work with 10 artists + main rehearsal
Friday 17 November: Showtime! Performances are streamed for live audiences in 12 different
countries + Residencies' own feedback to other residencies and feedback from viewers
More about Theatre in Palm and the residency here: Open call | theatreinpalm.com (turkuamk.fi)