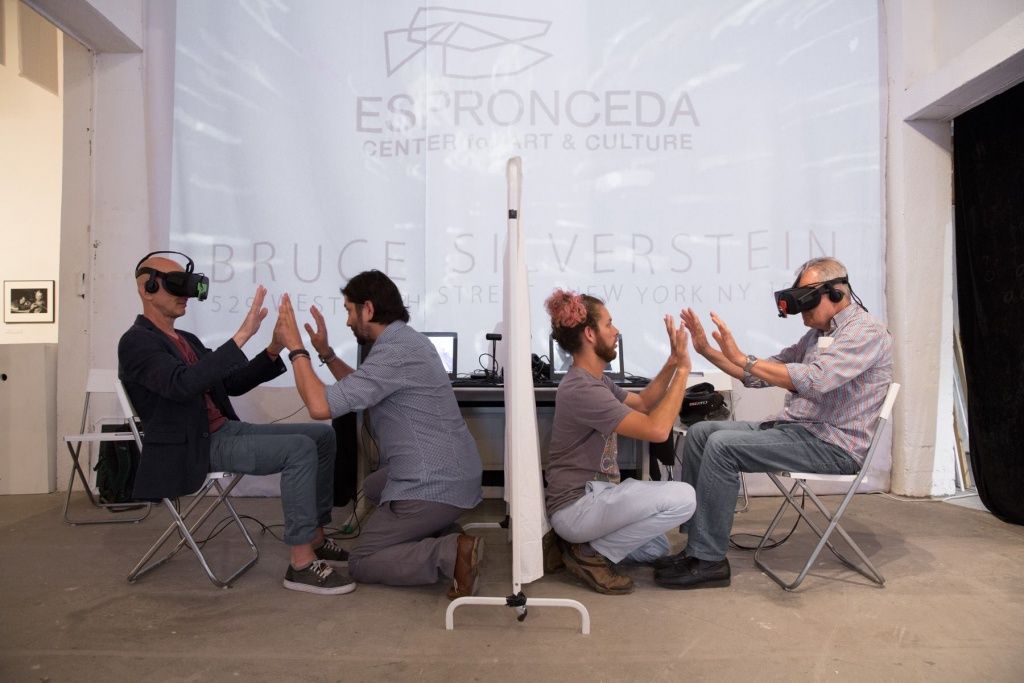 Art is our future for building a better society.
We believe in the power of Art and its connection with science and technology. 

I

nnovation doesn't just come from equations, mathematics or some scientific formula but it comes from a human place. Innovation in the sciences is always linked in some way, either directly or indirectly, to a human experience. And human experiences happen through engaging with the arts and creation – playing or listening music, discovering an art piece, taking a photography, ect.
Art helps you see things in a less unnatural space. Our economy is built upon convergent thinkers, people that execute things, get them done. But artists and designers are divergent thinkers: they expand the horizon of possibilities, they are visionary. Superior innovation comes from bringing divergents (artists and designers) and convergents (science and engineering) together.
All society needs to be involved in the process of (open) innovation.  
Therefore we believe in the philosophy of the STARTS program, which tries to connect innovation at the core of Science, Technology and ARTS.. Art is a catalyst for innovative change in research, business, economy, politics and society.
AI4Future is a Creative Europe's project which involves three different European countries: Italy, Spain and Netherlands. It aims at enhancing the understanding and dissemination of A.I. related technologies for the active and creative participation of young activists to the European cultural scene, allowing them to work with artists for a joint creation of a new urban community awareness.
The A.I. approach allows the access and the interpretation of data to better understand both how this new technologies works and to discover new aspects of community societal mechanisms. The new generations will have a fundamental role in this change as they are maturing and growing in the progress of the technological revolution.
The main topic of collaboration between young activists and artists will be the "mobility", considered in different meanings and different interpretations developed thanks to a dialogue between the partners. The meanings of mobility that emerged are: mental mobility, pandemic fatigue; social economical, and political mobility; virtual, interactive mobility, in which A.I. is not just a tool. Young activists, artists and policy makers will have the opportunity to deal with international meetings, workshops and artists residencies.
IMMENSIVA is an international platform for new digital platforms, focusing on VR, AR and MR, in cooperation with Espronceda – Institute for Art & Culture
MindSpaces is a multidisciplinary effort, integrating the arts, neuroscience, architecture, 3D modelling, visual, text, EEG, physiological sensing analysis, AR/VR and a wide range of end users, from city dwellers to tourists, elderly living independently. Its aim, to improve the design of outdoors public spaces, indoors work and house interiors through participatory design that involves multisensory measurements of end user responses, will inherently integrate these multiple disciplines towards a common goal. The resulting artistic AR/VR installations, design tools and methodologies will allow future developments within this ecosystem through their use.
MindSpaces aims at burgeoning STARTS ecosystem by developing a novel paradigm of cooperation between artists, technology, research, industrial and user partners and a common working model (SIO1), which will allow for the initiation of projects of similar nature under the evolving STARTS ecosystem.
OLEA is a unique olive oil, the result of development between different disciplines and coordinated by the artist Solimán López. In collaboration with the Twist Bioscience laboratory, which has been in charge of the DNA synthesis of the smart contract for the OLEA cryptocurrency (programmed by Blue Room Innovation) and which will later be encapsulated in silica to be incorporated into a limited series of 1,250 liters of olive oil that will be expanded with the new supplies of the currency in the coming months. In this last step, Solimán has had the support of Javier Forment, head of the Bioinformatics Service of the Institute of Molecular and Cellular Biology of Plants IBMCP
(UPV Polytechnic University of València – CSIC Higher Council for Scientific Research). With this action the artist creates a new space for reflection and an approach of species, concepts, economies, societies and information flows that converge in a single fluid.
OLEA introduces a historical innovation in the world of contemporary art and the environment of cryptocurrencies and NFT's (unique digital assets) incorporating the artistic factor to
a sector with a highly speculative character. Thanks to blockchain technology, we can now prove the ownership and authenticity of digital assets. In addition to facilitating traceability and transparency to the works of the creators. Historically related to deities, abundance, health, softness and liquid gold, oil is the perfect place to welcome other natures. Genetic alteration, its artificial construction and coexistence in hybrid spaces, configure a new ecosystem of ethical, religious, political and social thought that, thanks to this project, intends to link molecularly with techno-political structures, cryptography and decentralized models of thought and economy.
The current project PALkonnect is engaging cultural, artistic, and research organizations to stimulate European awareness and empower people of current and future generations to respect the inclusion and diversity and to be successful innovators in their local environment. The current project aims to support artists from social inclusion groups to present and promote their artworks in post-COVID 19 circumstances and to inspire their cooperation within the European countries. The project aims to equip them with the necessary innovative skills and competencies to encourage their creativity and the creation of new art pieces. Additionally, the main objective of the project is to enhance the promotion and popularity of cultural and historical information about the targeted social inclusion groups to increase the public knowledge and integration process. Sharing the personal story and historical facts about each inclusion group will support the integration process and increase public knowledge.
The Platform "European Theatre platform for supporting emerging artists cooperation and resilience" (Theatre in Palm) acts as an incubator for new voices from the page to the stage with main emphasis on their professional development and enhancement of their cooperation with artists and artist organisations from other platform countries, bringing together partners from across Europe for a 3-year project to develop a model for a new multi-media cooperative and co-creation interaction among theatre professionals and workers.
Once a year, Espronceda gives the IMMENSIVA prize to selected artists who are invited for a 2-4 weeks residency in Barcelona to create art with cutting edge technologies, like VR, AI, AR and more.
The selection is done by an international jury.  Artists apply through an open call or are proposed by the advisors/curators of Espronceda and Immensiva.
In the VR / AI artist residency, up to 12 artists will be working and collaborating together to create new artworks in a collaborative environment.
The Immensiva and Espronceda team supports heavily the artists with all possibilities. We will also connect with the local and regional ecosystem and invite high-key speakers, advisors and curators during the residency to offer an outstanding & sustainable experience.
The created artworks (as well as potentially individual artworks) will be presented in a closing event and following exhibition, open to the public.
In February 2020, the first VR / AI artist residency took place.
And Espronceda is proud that the first edition was the world-wide biggest VR residency so far!
WeSTEAM is the Erasmus+ project aimed at enhancing the role of women in science and the attractiveness of science courses for female students through the development, testing and dissemination of a methodology based on the STEAM approach.
The first step of the project is designing and disseminating a reference framework for strengthening and assessing women STEM students' Art Thinking capacity. This will allow both students and educational organizations (universities and informal education centers) to gain awareness of the skills they need to enhance in order to complement their curricula according to a STEAM approach.

Espronceda is one of the Co-Founders of the VR Art Academy. The purpose is to instruct artists how to expand their creative vision via VR/AR/MR Art, and to provide them with the technology and advise how to use it.