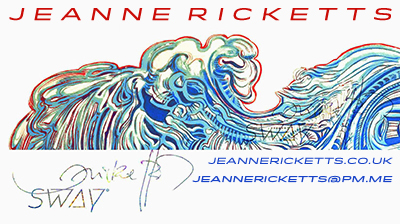 About the artist
https://www.jeannericketts.co.uk
As a transcendental artist, Jeanne Ricketts' surreal Art-life transited from ashes, to soul, to serendipity. Not purely abstract yet fully intuitive, Jeanne Ricketts' murals and paintings (1993-now) suggest a tartan of oceanic poiesis, softly blurred and intertwined into a wild, almost Aboriginal to Asian calligraphic style. Her works cross-dissolve into layers of diluted inks, and have set into motion her ethereal trace. – Born as Janine Ricketts in Boulogne-Billancourt (Paris) in the 70s into a lineage of Scottish-transcultural artists, poets (Mary Stuart, Rudyard Kipling)and musicians, her paternal Grandmother was a pianist and soloist of Aberdeen's Orchestral Society and was her first teacher, sealing inter-generational affinities Jeanne Ricketts embodies throughout her body of works. Her contemplation and osmosis with the waters she sailed into life since her day of conception in Crete, shaped the calligraphy of her own musical Wave, composing her symphony via themes beyond her own awareness..
"Never before has the family of humankind had a greater need for the power of Art to generate calming connections across world systems. Ricketts' visionary paintings link internal, emotional and cognitive systems with external cultural realities and explore new patterns for understanding nature and human nature." —  Dr. Phillip Romero MD New York City, founder of the Smart Peace Prize, is a psychiatrist, art-expert and author of "Phantom Stress" co-written by Joe La Placa, Director of Cardi Gallery London.
Dr. Romero interviewed scientists and other spiritual established artists such as Andy Warhol, and years later also Jeanne Ricketts at her chapel murals in Provence (France), in the pursuit of brain studies; building a theory on proving that art = survival and how its spirit can bring resilience and peace at all times."
2019-2020 whilst bravely handling a number of threatening challenges throughout 2019 and regaining her freedom as a British artist at River Thames amidst the storm of Brexit, Jeanne Ricketts tragically was separated from her most beloved dying Father – where 5G could very well have played a lethal role. – Slowly but surely, Ricketts' Renaissance reemerged between her London base and new pioneering projects, swaying her between New York, Luxembourg, Amsterdam, Belgium, Oman, Munich, Vienna and Lake Geneva "City of Water and Peace". — Hosted by the "Four Seasons" on September 3rd 2019, she painted her Wave-performance for the people of Geneva, parallel to the stream on Rousseau's island, which had never happened in local history before.
SECRETLY KNOWN amongst pioneers in the cultural and luxury world expecting her "big world splash", although Ricketts' image remained low-key since 2002 whilst enduring similar challenges Michelangelo experienced during his life-time, according to various experts. — Regardless of her rare appearances, art collectors commonly found in her existing works, a reminiscence in style with the waves of HOKUSAI — with ROBERTO MATTA for her "soulscapes" versus his "inscapes" — with FRIDA KAHLO for a similar destiny and processes of holistic visualisations. — At last, a striking reminiscence with ZAHA HADID's lines, for both being driven by the shapes of dunes / oceans, as seen in Ricketts' "OceanSkies" (2010-now),  her collectors' most wanted series.

IN NEED OF SOLITUDE she from 2015 – 2016 was proposed by one of her lawyers to re-vibe "Villa Solitude", former Beach-house of Romy Schneider and Alain Delon; situated on the bay of "Mala Beach" in Cap d'Ail (South of France), a coastal town Ricketts drew into commissioned stamp-series in commemoration of Cap d'Ail's Centenary (2008). The sound of the Mediterranean waves crashing against the rock-foundations of the villa, forever echo in Ricketts' two series of 2.44 x 4,80m "Ocean's Calligraphy I & II" (2014-2017); extracted from two segments of her original eighty linear meter street-art wave, initiated during three hot Summer nights on Port Hercules and continued at "Villa Solitude". — This large-scale piece became the pivotal breakthrough of her art-call, she concealed into her brand SWAY®. — "Villa Solitude" enhanced Ricketts' game-changer and became her private show-room, in which rare exclusive panoramic sea-view gatherings took place. Her off-grid, interdisciplinary collaborations emerged amongst entrusted clients and selected industry-famed designers.
THE COMMISSION FOR ETHIC RIGHTS & PEACE (AIAS, Paris) and the ARARAT INTERNATIONAL ACADEMY OF SCIENCES invited Jeanne Ricketts to Geneva in September 2016,   to  hold  a   conference  on  one  of  her projected "intuitive-series" in context with World-affairs and present her merged holistic family portrait entitled "Our Eldest Brother Iraq & Sister Syria". — At the occasion of the Centenary of the Armenian Genocide in September 2015, the same hosts awarded her for "Arts and World Culture" at UNESCO in Paris, for her compelling speech she held at their conference on "Genocide, Art and Peace". Her words were illustrated by her intuitive drawing "And This Is Iraq", which she dreamt about in 2008, pre-announcing an "upheaval coming from Africa", later known as the "Arab Spring". – In honour of all victims of power abuse, "Human Wave At The Bus Stop" (2010) pre-announcing the refugee-wave at the time, became her 2nd donation for the AGENCE INTERNATIONALE POUR LA PAIX in Paris.

STRIKING ENCOUNTERS with a Libyan who freed his country from the embargo till the Arab Spring took over; as well as living three years between Lausanne (CH) and Rhodes (GR) with a renowned Greek Orthodox interfaith prophet from Egypt, shaped the puzzle pieces in her life, which ignited Ricketts' visionary works beyond control and comprehension, into an apocalyptic language only Art could witness.
TRAPPED IN FREEDOM — is her 9min autobiographical short-film, edited since 12.12.12. with an open-end by Franz Fox Kennedy. Revealing what drives Ricketts' transcendental Art, whilst transmitting various premonitory dreams for-felt from a metaphysical dimension in synchronicity with the "Signs of the Times". Arising via inner locutions, unfolding as to how we relate to another from holistic perspectives, her surrendered state of trance in her creative proceedings often incubate as mixed-media over-drawn to over-written poetry, painted over depleted resin prints she partially cuts and sculpts into semi-reliefs.
EARTH PILGRIM — Satish Kumar, a holistic author, deep-ecologist and follower of Mahatma Gandhi, who is in touch with Ricketts since 2012, was the first to personally be able to relate to her works he deeply resonates with in his own writings and vice-versa.
2004-2012 — Ricketts' challenged Art-life was mostly lived from Jettingen's Castle in Germany, birth place and home of Claus Schenk Graf von Stauffenberg. This is where during, and beyond his legendary lifetime, only minutes away from Dachau's concentration camp, he protected persecuted minorities. — This historic and serene place inevitably shaped Ricketts' Art-call, in which she accomplished the majority of her works. Little did she know at the time, that from 1938, her similar Silesian (artist) grandmother and (poet) great-grandfather, Franziskus von Fürstenberg regularly met with von Stauffenberg during his secret gatherings in a forest in Silesia. — It was only in 2019 on her Benelux-tour, that Jeanne Ricketts was puzzled to realise together with gallerists, that most of her "merging souls series" (2005-now) look as if they belonged to the post-war movement. Ricketts' body of works are undeniably intertwined with the lives of previous generations, possibly looking for intuitive hands to continue creating for the sake of a higher legacy.
OUT OF THE GALLERY SECTOR — Jeanne Ricketts' solo projects remain her "forte", however from April 2005 to December 2010, she mainly co-curated and exhibited with a long-term partner of Louis Toninelli : Shahyar Amini, Founder of AMINIART (MC), whom she was engaged to at the time. – She also exhibited at late Marco Bianco's In'Camera gallery (Forte Dei Marmi, I.), at Galerie Gollong (St. Paul de Vence, F.) as well as at Galerie Ferrero and the Biennale of UMAM (Nice, F). — During those years, Ricketts' works were shown amongst pieces of : Shirin Neshat, Dariush Mohaier, Hans Hartung, Yves Klein, Andy Warhol, Pablo Picasso, Sosno, Mimmo Rotella, Marino Marini, Gilles Miquelis, Michaelangelo Pistoletto,  Arman, Louis Cane, Nicole Cane,  Ben  and  César  to name a few. — Nevertheless, her various advisors encouraged Jeanne Ricketts to focus on her off-grid, initial solo-path as pioneer, which keeps the availability of any or her art pieces rare.
DISCOVERED IN THE YEAR 2000 for her earliest murals painted in the vault of St. Louis Chapel, built in 1646 in the hamlet of La Doire de Séranon, off the "Route Napoléon" in Provence (France), where her "Braveheart"-Father, Henry Martin Ricketts now rests since end-March 2020. — "Heavenly Kingdom, Earthly Kingdom" is the title she gave to her 5x8m mural she painted during a six months hermitage in multiple layers of shades of inks, providing any viewer with her shared sensation of swaying between two parallel realms. The inaugural media coverage of this masterpiece triggered over 60 murals and ca. 150 small to large scale art pieces, partially commissioned across the USA, Russia, Britain, Switzerland, Europe, Japan, South Korea, Brazil and the Middle East. — Her collectors, to name a few are: Omar Fayed, Pierre Cardin, Demosthenes Canakis, the artist Louis Cane (founder of the Movement Supports/Surfaces, Paris, 1998); First Energy Bank (Bahrain); and Dr. Bernard Massini presiding the advisory board of the MAMAC Museum in Nice (F).
NON-CONFORMAL by nature, she since early childhood confidently rejected any form of Academic mainstream education.
From 1999-2004 Jeanne Ricketts assisted and painted exclusively on a regular basis at "Castel Caramel" in Monti (F) with surrealist and visionary artist Ernst Fuchs, who during his life-time worked with Dalì and Hundertwasser. In those years she also mingled with Razzia, the official LVMH Poster-artist, via whom she discovered common affinities for vintage and the Dolce Vita, which later influenced her concept SWAY®. — 

In 1996 Ricketts graduated with awards from Brittany's Murals and Art Déco Master of its time, Yannick Guégan, whom

'

s remote Institute was by the Atlantic Ocean in Quimiac-Mesquer (F).- During four months of high-intensity studies of secret techniques you could find no equivalent in the World, Ricketts experienced one of her first breakthroughs. Whilst painting her very first large-scale

"

OceanSky" all students stopped to watch her paint, to the greatest surprise of her Master and herself.


1994-1996 Ricketts lived her first romantic island-life from the Greek medieval town of Rhodes. There she initiated her autodidactic mural-coaborations with local international architects, whilst studying Byzantine iconography under Eva Vlavianos. These biblical lines painted with Japanese brushes led her hand ever since.

1986-1994 Ricketts graduated in Arts & Fashion as a quadrilingual polyglot from Wald

'

s Art-oriented Boarding-school in Baden-Württemberg, Germany.
Jeanne Ricketts performs Live Worldwide on commission in partnership with international patrons and Art collectors endorsing innovation and CSR, and I am thrilled to count her amongst us at ESPRONCEDA since 2017.
Dr. Jur. Holger Sprengel — CEO & Founder of ESPRONCEDA, Institute of Art & Culture