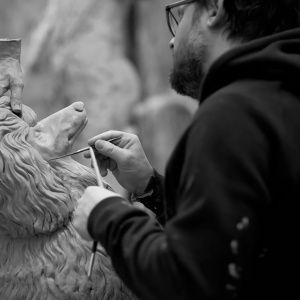 About the artist
Roland Reiter was born in 1965 in Schladming (Austria) and studied sculpture at the University of applied Arts as well as Jazzdrums at the Konservatorium in Vienna.
Since 1995 he works as a lecturer at the University of applied Arts in Vienna at the sculpture class together with Wander Bertoni, Adolf Frohner or Erwin Wurm and later for the TransArts Class (http://www.dieangewandte.at/TransArts).
In his installations and sculptural and photographic works, Roland Reiter stages such contradictions or situations oscillating between absurdity and everyday reality, between psychodrama and humor, in terms of a "romantic theatralization of a naturalism whose identity has been distorted through interference," as the artist himself defines his approach. What might be considered "naturalistic" here are the individual elements or materials deriving directly from the stock of nature or everyday culture.