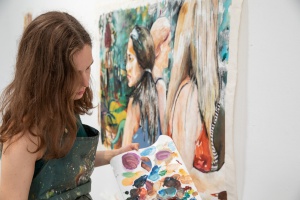 About the artist
Clara Lotta Dittmer was born in Hamburg, Germany in 1992. Clara studied painting in Hamburg with Prof. Christian Hahn & Prof. Henning Kles at the HAW Hamburg. From 2013-2014 she studied at the Academia di Belle Arti, Bologna, Italy, before she received her Bachelor of Arts degree with honors at the HAW in 2015.
Music has always been a great source of inspiration for the artist, especially the tone color of the Violoncello which she startet to learn in the age of 6.
Clara has exhibited her prize-winning work in Germany, and she is one of the winners of the coveted, Arte Laguna Prize, in Venice, Italy in 2019.