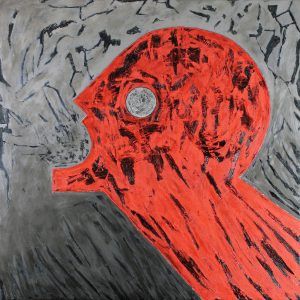 About the artist:
Born in Östersund, Sweden on 25 November 1980. Aged 18 months Eric Bocanegra moved to Barcelona with his mother.
His passion for painting is developed from early childhood, with the help of his father and his extensive art book collection. Expressive inquisitiveness springs in adolescence and takes shape through writing, film making and drawing and entangles in the pursue of a way that would meet his needs. Alas, he fails.
At 25, after years of fruitless creation and an unstable life story, Eric finds in painting a fascinating and stimulating way of creating. He develops a style that lets him unleash his imaginery, fantasies and anxieties. Painting becomes his life.
In early 2015, in the wake of a fire in his workshop he is forced to relocate himself and in cooperation with other artists starts an Art Factory in an abandoned building of Barcelona.