About the artist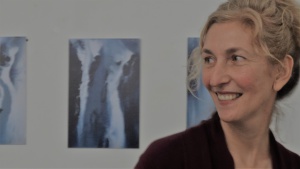 www.mireiacifuentes.com
facebook: Mireia Cifuentes
instagram: mireiacifuentes
Mireia Cifuentes travels some years in Europe and Asia where she discovers her vocation for painting.
In 1992, she moved to Barcelona to devote herself exclusively to this discipline.
Although she is mainly self-taught she has taken seminars with Gloría Muñoz and Teresa Llácer, dedicating the first years of her learning to the study of the human figure and the natural landscape. Later, the curiosity of experimenting with different materials leads her to work with engraving techniques and artistic sculpture at the School of
Arts and Crafts in Barcelona. In 2010 she returns to the painting incorporating mixed techniques in the field
of abstraction. In recent years we can see in her work how figuration and abstraction merge and dialogue to
arrive at a synthesis that goes beyond personal expression itself.
She is currently a resident artist in LaNavestudiosBCN (Edifici Freixas) and coordinates painting and
drawing workshops in Tangram Espai-polièdric.